A look ahead at the weekend fixtures in the English Premier League including important ties between Hull and Sunderland, Swansea and Everton, and the champions-elect facing Boro at home.
West Ham v Spurs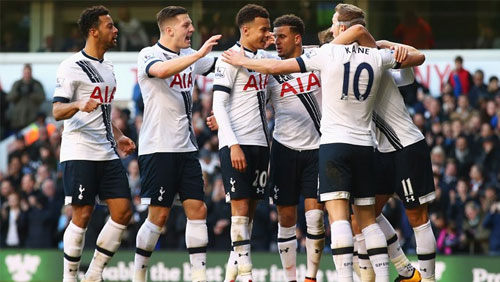 West Ham +650
Spurs -250
Draw +370
What idiot decided to host the London derby between West Ham and Spurs on a Friday night?
It's no secret that West Ham has struggled to maintain law and order since their move into the London Stadium, and last year a West Ham fan was stabbed in the stomach as fighting broke out before their match at White Hart Lane.
If I were having a bet, it would be on a fight, but let's stick to the football.
It's the first time since the Premier League caught fire that Spurs will play before Chelsea. It gives Mauricio Pochettino's side the opportunity to reduce the gap to a single point with Chelsea facing a resurgent Middlesbrough side at Stamford Bridge on Monday night.
West Ham will have their work cut out to stop a rampant Spurs side seeking their tenth Premier League win on the bounce. But if anyone can keep them out it's West Ham. The Hammers have kept three clean sheets in their past four games, although they haven't registered at the other end in their previous two games.
Spurs have only lost once in the five meetings between the clubs, and I don't think Friday night is the night that stat will improve in West Ham's favour. Spurs are up for it, and I believe they will win to apply maximum pressure onto Antonio Conte's side.
My Prediction: A Spurs win.
Man City v Crystal Palace
Man City – 425
Crystal Palace +950
Draw +525
Both teams need to win this game.
Man City need the points to inch closer to Champions League football, and Crystal Palace needs them to avoid the ignominy of relegation to the Championship.
An excellent run of seven wins from eight, including victories over Arsenal, Chelsea, and Liverpool means Palace sit six points above the relegation zone with three matches remaining.
You would expect them to be safe, but if they lose to Man City, Hull, and Man Utd (all exceedingly likely results), and Swansea, Hull and Middlesbrough get their act together then Big Sam could be dropping through the trapdoor.
And the prognosis is not okay for Palace.
From the 17 games the pair has played since 1997, Palace has drawn two and won two. City, on the other hand, has won the previous five meetings, and the last 12 of their 13 ties. City comes into the game having failed to register a win in three, but Palace has lost the past two. Big Sam's away record is the best outside of the Top Six clubs, but I can't see them turning it on at The Etihad with the stakes so high.
My Prediction – Man City win.
Bournemouth v Stoke
Bournemouth +110
Stoke +235
Draw +245
It's a shame that the Premier League Manager of the Year award often ends up in the hands of the winner because Eddie Howe would be in with a shout. To keep Bournemouth in the Premier League for the third successive season is an incredible achievement considering how teeny-weeny-tiny Bournemouth is.
Bournemouth has won two consecutive league games reacting well after the drubbings received from both Spurs & Chelsea. They kept clean sheets in both those games, and in Joshua King, they have one of the most exciting finishing artists in the Premier League with only messrs Kane and Lukaku scoring more this side of Christmas.
Stoke's season is falling apart at the seams. The Potters have only picked up one win their last eight games, and they are struggling for goals, failing to hit the target in five of the past eight ties.
My Prediction – A draw below three goals
Hull v Sunderland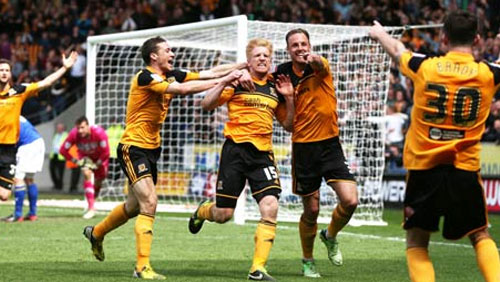 Hull -225
Sunderland +600
Draw +340
Several months ago this tie looked a beauty, but after Sunderland was sent to the Championship by Bournemouth last week, it's turned into a dead jellyfish.
Hull is like He-Man and Sunderland is Ram Man without a helmet. The KCOM Stadium is a fortress, and you need more gallantry than this Sunderland side has to take over the joint.
Hull has only lost once to Sunderland in their past six encounters, and that was the 3-0 defeat in the North East back in November, one of only five victories for the Black Cats all season.
My Prediction – Hull City win.
Burnley v West Brom
Burnley +115
West Brom +250
Draw +225
Sean Dyche has done a sterling job at Burnley this season. They have turned Turfmoor into one of the most difficult grounds to visit in the league, and it looks like they will remain in the Premier League for at least one more season.
But it hasn't been a fun ride in the back end of the season with Burnley in free fall until they turned it around with a 2-0 away win against Crystal Palace last week, their first in the league this season.
Visiting West Brom are set to have their best season since the formation of the Premier League, but they are also in miserable form, losing four consecutive games. Tony Pulis's side hasn't won a league game since March, and they haven't scored a goal in 300-minutes of football.
The Baggies hammered Burnley 4-0 at the Hawthorns in November, but I think this will be a much closer affair.
My Prediction – a draw below three goals
Leicester v Watford
Leicester -175
Watford +500
Draw +305
The champions are a strong outfit at home, and after losing only two of their previous twelve games in all competitions, they will prove too strong for Watford.
There were moments this season that both sides looked likely to be dragged into the quagmire of the bottom three, but a decent run of form from both saw them reach the safety of mid-table mediocrity.
The Hornets has lost their last two games without conceding a goal, and it's no coincidence that they dropped those points after reaching the magic 40-point mark. I think the lads are in holiday mode and they won't return until next season, when, incidentally, I believe that they will have a new manager at the helm.
My Prediction – Leicester win.
Swansea v Everton
Swansea +180
Everton +150
Draw +230
The bookies see this as one of the hardest calls of the weekend, and I can understand why.
Swansea has shown the ability to be half decent and utterly terrible this season. They are fighting for their lives, and know that they probably have to win their remaining matches to keep the dragon breathing fire in the Premier League next season.
Everton's season is over. Ronald Koeman's side has already qualified for the Europa League, and they have too much to do to make the Champions League cut.
So how hungry will they be at The Liberty Stadium?
The Swans picked up a huge point at Old Trafford on the weekend courtesy of another moment of brilliance from Gylffi Sigurdsson, and they will be looking to him to do something similar if they are going to win this game.
But I don't think that's going to happen.
Romelu Lukaku didn't get a kick against Chelsea, and that would have frustrated him. I expect the young bull to be breathing steam through his nostrils on Saturday, and I am not sure Swansea can handle him.
My Prediction – Everton win.
Liverpool v Southampton
Liverpool -180
Southampton +450
Draw +315
If Liverpool wins their remaining three games, they will qualify for the Champions League, and I think they will do that starting with a win over Southampton.
Only Spurs, Chelsea, and Everton, have a better home record than Liverpool: winning eleven, drawing four, and only suffering two defeats, but they have only beaten Southampton once in their past six games, including losing the two-legged English Football League (EFL) Cup Semi Final.
The Saints, on the other hand, are winless in three, and with another respectable top half of the table placement looking likely, I expect most of the team to be busy thinking of sun, sea, and sandals.
My Prediction – A Liverpool win.
Arsenal v Man Utd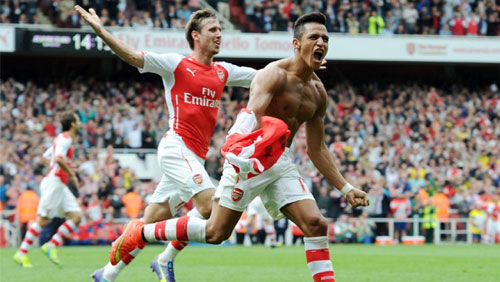 Arsenal -110
Man Utd +290
Draw +315
The two old enemies face each other safe in the knowledge that a draw or defeat will almost certainly eliminate them from a tight Champions League race.
Both sides dropped points on the weekend with Arsenal looking jaded against Spurs and United blowing it at home to Swansea. United won't win this one though. They have an extensive injury list that includes Phil Jones, Chris Smalling, Marcos Rojo, Zlatan Ibrahimovic, Timothy Fosu-Mensah, and Luke Shaw. The good news for United is Juan Mata, and Paul Pogba will return to the side, but question marks loom over Eric Bailly's inclusion.
The other difference will be fatigue.
United play against Celta Vigo on Thursday in their crucial Europa League Semi Final giving the Arsenal players two days extra rest over the Red Devils.
My Prediction – Arsenal win.
Chelsea v Middlesbrough
Chelsea -650
Middlesbrough +1600
Draw +650
While some people were raving about Middlesbrough's performance against Man City on the weekend, I felt sorry for the Boro fans. Why did it take them until there were four games of the season to apply some effort?
Boro deserves to go down and will go down. Chelsea is just too strong in every department, and even if Spurs win on Friday night to narrow the gap to one point, I don't think it will phase this squad of experienced champions.
My Prediction – Chelsea win.
Fixtures in Full
West Ham v Spurs
Man City v Crystal Palace
Bournemouth v Stoke
Hull v Sunderland
Burnley v West Brom
Leicester v Watford
Swansea v Everton
Liverpool v Southampton
Arsenal v Man Utd
Chelsea v Middlesbrough
Premier League Table
1. Chelsea – 81
2. Spurs – 77
3. Liverpool – 66
4. Man City – 66
5. Man Utd – 65
6. Arsenal – 60
7. Everton – 58
8. West Brom – 44
9. Southampton – 41
10. Bournemouth – 41
11. Leicester – 40
12. Stoke – 40
13. Watford – 40
14. Burnley – 39
15. West Ham – 39
16. Crystal Palace – 38
17. Hull – 34
18. Swansea – 32
19. Middlesbrough – 28
20. Sunderland – 21
Odds courtesy of Bodog
Comments