Week 35 of the English Premier League sees Liverpool wrest control of Champions League qualification after a moment of magic in an otherwise dreary affair at Vicarage Road.
Liverpool was in a great position to pull away in the race for the Champions League after both Manchester clubs and Arsenal dropped points on the weekend.
Watford stood in their way; not exactly a frightening prospect. The Hornets hit the magic 40 point mark a few games ago and turned up in the next match against Hull so relaxed their captain Troy Deeney told the press they had no balls.
There were more balls on Monday night, but nothing would have stopped the moment of magic that sealed the win for Liverpool, and now means, if they win their last three remaining matches they will qualify for the Champions League.
With the first half running into extinction, Lucas picked the ball up in the Watford half. Emre Can made a speculative dart into the box. The Brazilian picked him out and Can twisted and contorted like a Cirque du Soleil gymnast to connect with a glorious overhead kick giving Gomes no chance.
It was a moment of brilliance in a game that was no more entertaining than an episode of Little House on the Prairie. Adam Lallana, who came on for the injured Philippe Coutinho also hit the bar, as did Sebastian Prodl, in the dying seconds of the match, but those were the only real excitable moments in an otherwise drab game.
It was Liverpool's third consecutive away victory, and Bodog make them -800 to make the Champions League group stages, and looking at their run in you can see why.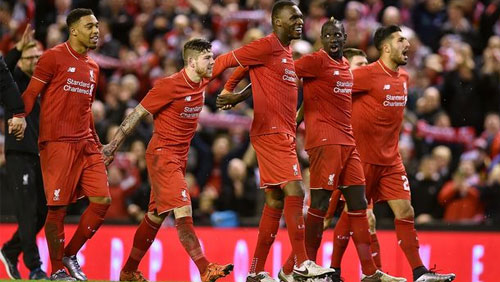 Liverpool Run In
Southampton (H)
West Ham (A)
Middlesbrough (H)
Southampton and West Ham have nothing to play for, and I expect Middlesbrough to be a Championship side before Liverpool entertain them.
A Check on The Rest
With both Chelsea and Spurs guaranteed Champions League football, only two spots are remaining for the English clubs, except a place for Manchester United, if they win the Europa League.
Despite Liverpool's third place position, Bodog still ranks Manchester City as the best bet for a Champions League place. Liverpool is three points ahead of City, but the Blues have a game in hand. With only a solitary goal separating them on the goal difference front then the margins of victory are going to be crucial.
Man City Run In
Crystal Palace (H)
Leicester (H)
West Brom (H)
Watford (A)
I assume Bodog has made them favourites because three of their four ties are at home, but I still feel it's better to have the points in the bag than games in hand. Liverpool will win their remaining games, and that means it's a race between Man Utd, Man City, and Arsenal.
Man Utd Run In
Arsenal (A)
Spurs (A)
Southampton (A)
Crystal Palace (H)
United screwed up at home to Swansea. The Red Devils have drawn 14 games this season and without that statistic would have surely locked up a berth by now.
With an injury list as long as a Golden Eagle wingspan, and a two-legged Europa League tie against Celta Vigo to focus on, I can't see United getting the points they need to close the gap on City. Jose Mourinho and his side must make sure they lift the Europa League, and if they do, it will be a job well done in Mourinho's first season in charge after already securing the English Football League (EFL) Cup earlier in the season.
Arsenal Run In
Man Utd (H)
Southampton (A)
Stoke (A)
Sunderland (H)
Everton (H)
Arsenal is the +800 outsiders to make the cut.
The Gunners are six points behind City but have a game in hand. Even if they win all of their remaining games, which is a stretch, they still need City to stumble, and they would have to score an incredible glut of goals.
I think the bookies have selected the right Top 4.
Chelsea
Spurs
Liverpool
Man City
Here are the rest of the weekend's results
Results in Full
West Brom 0 v 1 Leicester
Southampton 0 v 0 Hull
Stoke 0 v 0 West Ham
Sunderland 0 v 1 Bournemouth
Crystal Palace 0 v 2 Burnley
Man Utd 1 v 1 Swansea
Middlesbrough 2 v 2 Man City
Everton 0 v 3 Chelsea
Spurs 2 v 0 Arsenal
Watford 0 v 1 Liverpool
Premier League Table
1. Chelsea – 81
2. Spurs – 77
3. Liverpool – 69
4. Man City – 66
5. Man Utd – 65
6. Arsenal – 60
7. Everton – 58
8. West Brom – 44
9. Southampton – 41
10. Bournemouth – 41
11. Leicester – 40
12. Stoke – 40
13. Watford – 40
14. Burnley – 39
15. West Ham – 39
16. Crystal Palace – 38
17. Hull – 34
18. Swansea – 32
19. Middlesbrough – 28
20. Sunderland – 21
Comments