Week 35 of the English Premier League sees Chelsea and Spurs continuing to battle for the title, one out of three clubs are confirmed as relegated, and the two Manchester clubs stutter in Champions League race.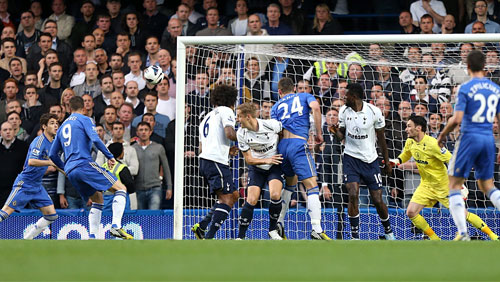 The final hurdle was Everton away.
Ronald Koeman's side had beaten all eight of the previous teams who had entered their lair. They had only suffered two defeats in seventeen matches. But Chelsea ended that run with an ironclad statement that they will not let go of this four point lead.
It took a moment of brilliance to calm the nerves of the London club. Antonio Conte decided to bring Pedro into the team ahead of Cesc Fabregas, and the little Spaniard pulled off a left foot screamer to give Chelsea the lead in the 66th minute in an otherwise tense affair.
Eden Hazard didn't have a sniff all afternoon, locked under the supervision of Idrissa Gueye, but he did manage to escape in the 79th minute to put a daisy cutter of a free kick into the box. The wall crumbled, and Gary Cahill was on hand to bundle the ball home after Maarten Stekelenburg had saved.
The fatal blow came with four minutes remaining when the two substitutes Fabregas and Willian combined with the Brazilian finishing off an excellent move, to give Chelsea an 8-0 aggregate win over Everton in their home and away ties this season.
With Chelsea swooping like a falcon towards the finishing line you could have forgiven Spurs for throwing in the towel against Arsenal. But Mauricio Pochettino's side has forgotten how to draw or lose. They came into this tie against Arsenal on an eight-game winning streak and armed with the knowledge that a win would ensure they finished ahead of their fierce North London rivals for the first time in 21 years.
Spurs was outstanding.
Arsenal was a collective mess.
Once again attitude and application were lacking, and you have to point the finger at the desire of the Arsenal players, and that lack of oomph must come from the connection between the team and Arsene Wenger.
As you would expect it was the Kane and Alli show.
After missing a sitter from three yards, Alli was on hand in the box to drive the ball home after some twinkle toe work from Christian Eriksen. It was his 21st goal of the season.
Alli's strike came in the 55th minute, and the boys in white made sure three minutes later when Harry Kane went down under the challenge of Gabriel. Kane successfully converted the spot kick to score his fifth consecutive goal against Arsenal and secure the three points for Spurs.
Spurs keep winning, but the gap at the top has allowed Chelsea to make a few mistakes without any of them being fatal. Spurs have to hope that Chelsea slips up twice in their last four games, while getting through their final four unbeaten, and looking at the run in you can't see that happening.
The Run In
Chelsea
Middlesbrough (H)
West Brom (A)
Watford (H)
Sunderland (H)
Spurs
West Ham (A)
Man Utd (H)
Leicester (A)
Hull (A)
Premier League Winning Odds (Courtesy of Bodog)
Chelsea – 2000
Spurs +900
Relegation: One Down, Two to Go
Sunderland drops to the Championship like an anvil in a swimming pool after losing to a goal to nil at home to Bournemouth. The defeat ends Sunderland's ten-year stay in the top flight, and if I were a Sunderland fan, I would be concerned over the future of this great club.
Sunderland needed at least a draw to put off the stay of execution for at least another week after Hull had drawn away at Southampton in a tense goalless draw. But with only two points gained in twenty-seven, and Jermaine Defoe losing his sight of goal, every game was turning into a struggle.
Even the fans had given up hope, with 38,394 making it the lowest gate of the season. The hammer on the head came in the 88th minute and who else but Joshua King was in the box at the right time to show Sunderland how to score a goal. It was King's 12th goal of 2017, and only Harry Kane and Romelu Lukaku has scored more.
It is the first time that David Moyes has faced relegation and it's a big red mark on a CV that has looked increasingly flimsy since his decision to succeed Alex Ferguson at Old Trafford.
Moyes said he would consider his future at the end of the season, but with Sunderland's only stars Jordan Pickford and Jermaine Defoe expected to move on in the summer, this is a club that nobody will want to touch with a barge pole.
The bookies stopped collecting bets on Middlesbrough's relegation some time ago, but they showed at home to Man City that they still believe they have what it takes to create the great escape.
The Teessiders were leading at half time after Alvaro Negredo had scored against his old club with a fortunate effort from the edge of the box. And then Leroy Sane deceived the referee into giving Man City a penalty they should never have been awarded, and Sergio Aguero slammed the ball home.
With everyone expecting City to march forth and conquer, Boro reacted tremendously well, and Callum Chambers restored their lead in the 77th minute with his first goal since joining the club on loan from Arsenal.
Was Boro going to snatch the unlikeliest of three points?
No.
Sergio Aguero found some space on the left, he floated the ball into the box, and little Gabriel Jesus rose higher than anyone else to head the ball home and steal a share of the spoils.
Swansea took advantage of Man Utd's ever increasing injury problems to come away from Old Trafford with a crucial point. United, who lost Eric Bailly and Luke Shaw during the match to add to their ever growing injury list, took the lead through a Wayne Rooney penalty.
The Swans, much like Boro, was incredibly unfortunate to go down to a spot kick after Marcus Rashford clearly dived. These mistakes made by referees and these apparent acts of cheating by the players are spoiling the integrity of this great game.
Two things have to happen and happen quickly.
Referees have to make penalty decisions after a fourth official has looked at the video footage. It wouldn't have taken an official more than a few seconds to see that both Sane and Rashford were cheating.
Then both players should be shown an immediate red card. I can't think of a more galling offence in the world of football than faking injury or diving. And until the Premier League raises the consequences from yellow to red, and the officials keep making mistakes, the players will keep cheating.
The players DNA contains a sequence to 'dive' such is the scope of this problem.
Back to the United v Swansea game, and Gylffi Sigurdsson equalised for the Welsh side with another of his amazing free kicks. Nobody has scored more than the Icelandic star since August 2014 (6).
It was a good point for Swansea; Old Trafford is never a good place to go to expecting a result. But United will be kicking themselves after Man City failed to beat Boro at the Riverside. The gap between them remains one point in favour of the blue half of the City when it could have been the other way around.
United manager Jose Mourinho was quick to blame the April fixture pile up calling it 'inhuman', but the man needs to wake up. Over the years, United has assembled a squad of players who should be able to handle any fixture pile up. How can you keep a fresh Wayne Rooney on the bench week after week and complain that his other players are tired?
I would like to introduce another rule in the Premier League.
Ban managers like Mourinho, Wenger, and Sam Allardyce who do nothing after the game except complain bitterly about the past.
Run In
Middlesbrough
Chelsea (A)
Southampton (H)
Liverpool (A)
Hull
Sunderland (H)
Crystal Palace (A)
Spurs (H)
Swansea
Everton (H)
Sunderland (A)
West Brom (H)
Crystal Palace
Man City (A)
Hull (H)
Man Utd (A)
Relegation Odds
Swansea -200
Hull +175
Crystal Palace +1600
Here are the rest of the weekend's results
Results in Full
West Brom 0 v 1 Leicester
Southampton 0 v 0 Hull
Stoke 0 v 0 West Ham
Sunderland 0 v 1 Bournemouth
Crystal Palace 0 v 2 Burnley
Man Utd 1 v 1 Swansea
Middlesbrough 2 v 2 Man City
Everton 0 v 3 Chelsea
Spurs 2 v 0 Arsenal
To Be Played (Mon, 1 May)
Watford v Liverpool
Premier League Table
1. Chelsea – 81
2. Spurs – 77
3. Liverpool – 66
4. Man City – 66
5. Man Utd – 65
6. Arsenal – 60
7. Everton – 58
8. West Brom – 44
9. Southampton – 41
10. Bournemouth – 41
11. Leicester – 40
12. Stoke – 40
13. Watford – 40
14. Burnley – 39
15. West Ham – 39
16. Crystal Palace – 38
17. Hull – 34
18. Swansea – 32
19. Middlesbrough – 28
20. Sunderland – 21
Comments