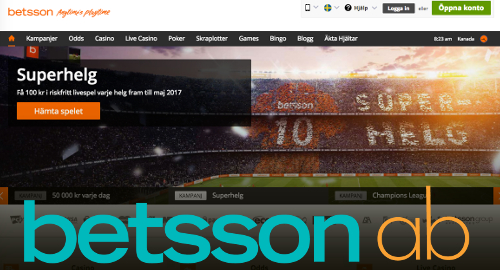 Nordic online betting operator Betsson AB's casino vertical bailed out its Q1 results after punters gave the company's sportsbook a right pounding.
Figures released Thursday show Betsson's revenue rising 10.2% year-on-year to SEK 1.1b (US $124.3m) in the three months ending March 31. But earnings fell 4% to SEK 241m and net income slipped 8% to SEK 214.4m thanks to unfavorable sporting results, negative currency fluctuations and increased betting duties in Betsson's regulated market operations.
Betsson's sportsbook was dealt a bad hand in Q1, as betting turnover fell 11% while a rash of punter-friendly football results pushed betting revenue down 15% to SEK 250.3m.
Fortunately, Betsson's casino vertical – which accounted for three-quarters of the overall revenue pie – had a stellar Q1, with revenue jumping 23% to SEK 823m. The gains were driven by 65% growth in mobile casino activity. Betsson's casino boasted 1,902 games at the end of Q1, of which 1,446 are available via mobile.
Active customer ranks grew nearly 13% to 607k but customer deposits grew at a slower rate (7.7%) due to the aforementioned currency exchange effects.
Betsson's betting duties increased by SEK 14.5m during Q1 as the company's regulated market revenue rose to 20.3% of the total from 13.3% in Q1 2016. Betsson aims to take its regulated revenue share to 50% by 2020, which the company warned would "slightly" impact margins.
Speaking of, Betsson made inroads into Spain's regulated online gambling market at the end of Q1, closing the €3m purchase of locally licensed operator Premier Casino that will now operate via the StarCasino.es domain.
In the UK, Betsson completed its £26.4m acquisition of NetPlay TV, which the company expects will contribute £25m to Betsson's 2017 revenue and make the UK one of Betsson's largest markets.
Nordic markets remain Betsson's bread-and-butter, accounting for 48% in Q1 thanks to 14% growth during the quarter. Western European markets grew 16%, pushing its share to 26% of the total. Central, Eastern Europe and Central Asia markets – which include the Georgian-facing Europe-Bet brand – declined 6% to 23% of the overall pie. The Rest of the World grew significantly (76%) but remains just 3% of the total.
Comments