The lengthened Week 34 of the English Premier League sees Chelsea beat Southampton at Stamford Bridge to push their margin at the top of the Premier League to seven points with Spurs facing Crystal Place on Wednesday night.
Southampton's visit to Stamford Bridge was not a match that Mauricio Pochettino would have pinned his Premier League hopes on. And yet it was still a stern test for a Chelsea side that still had the sound of defeats to Crystal Palace and Man Utd ringing in their ears. But what better way to silence the demons than a good old fashioned early goal.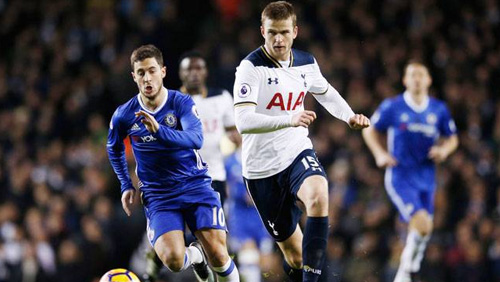 Antonio Conte made a few people spill their Starbucks coffee after reading the line-up for the FA Cup Semi-Final against Spurs. Both Diego Costa and Eden Hazard, the two most proficient attacking tools in Chelsea's toolkit, left on the bench.
But it was an inspired move.
Not only did the pair come off the bench late on to send Chelsea into the FA Cup Final, but they also combined to send Southampton packing in this one, and it was Hazard who settled the nerves with a low strike in the fifth minute. It was his 15th goal of the season, his best return since putting a stud into an English pitch.
It would be a miserable day for Southampton, but two returning old boys would get on the scoresheet for the South Coast club. The first was Oriol Romeu who scrambled the ball back into the net to give the Saints early hope in the 24th minute.
Chelsea restored the lead just before half-time when Gary Cahill headed Chelsea ahead. It was his 25th career goal, and only John Terry has scored more from defensive positions.
It took them five minutes to score in the first half and eight minutes in the second half. Cesc Fabregas putting the ball onto the head of Diego Costa who finished with style. It was Fabregas's 103rd Premier League assist, and only the great Ryan Giggs has more (162). For Costa, it was his 50th goal for the club in only 85 appearances, and he settled the tie when he scored his 51st in the final few minutes of normal time. Former Chelsea old boy Ryan Bertrand scored for the Saints with virtually the last kick of the game.
Chelsea has now scored eight goals in their last two matches since losing to Man Utd at Old Trafford. But they have failed to keep a clean sheet in their past 11 league appearances, and that would be their Achilles Heel if they had a run-in as tough as Spurs – but they don't.
Looking at Chelsea's final five games, only Everton and West Brom provide any likelihood of a threat. Meanwhile, Spurs has three London derbies on the spin before taking on a Champions League hunting Man Utd, a rejuvenated Leicester, and a Hull side who may be fighting relegation.
The uphill challenge for Spurs begins tonight against Crystal Palace. Chelsea faces Everton at Goodison Park on Sunday.
The Run In
Chelsea
Everton (A)
Middlesbrough (H)
West Brom (A)
Watford (H)
Sunderland (H)
Spurs
Crystal Palace (A)
Arsenal (H)
West Ham (A)
Man Utd (H)
Leicester (A)
Hull (A)
Premier League Table
1. Chelsea – 78
2. Spurs – 71
3. Liverpool – 66
4. Man City – 64
5. Man Utd – 63
6. Everton – 58
7. Arsenal – 57
8. West Brom – 44
9. Southampton – 40
10. Watford – 40
11. Stoke – 39
12. Crystal Palace – 38
13. Bournemouth – 38
14. West Ham – 38
15. Leicester – 37
16. Burnley – 36
17. Hull – 33
18. Swansea – 31
19. Middlesbrough – 24
20. Sunderland – 21
Premier League Winning Odds (Courtesy of Bodog)
Chelsea – 1400
Spurs +800
Comments