Las Vegas Sands Corp president and chief operating officer Robert Goldstein saw his compensation package drop 18.7 percent year-on-year in 2016.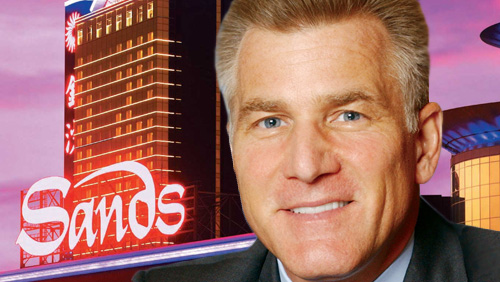 In a proxy filing, the Las Vegas-based casino operator said Goldstein's total compensation reached $8.20 million, down from the nearly $10.09 million the Sands executive received in the prior year period.
The news comes after Las Vegas Sands reported a 15.1 percent year-on-year drop in its net income for 2016, to $1.67 billion.
Goldstein, however, received a bonus totaling $3.23 million in February for his 2016 performance, although the executive did not get any stock grants for that year. Sands filing noted that the bonus was "based on the company's achievement of 95.1 percent of its predetermined nine-month EBITDA-based performance target."
The year-on-year drop in Goldstein's pay package included a decline of 56.2 percent in "other compensation" to $1.57 million, from nearly $3.59 million in 2015. Goldstein, however, received an allowance of close to $1.24 million in 2016 for his personal use of aircraft.
Meanwhile, Sands Chief Financial Officer Patrick Dumont took home a total compensation package of $8.92 million—higher than Goldstein's—for the same year. Dumont's package included $6.55 million in stock option awards, according to the filing.
Dumont is Sands head honcho Sheldon Adelson's son-in-law who formally joined the casino company in April 2016, filling a vacancy that had been left open since 2013 when Kenneth Kay stepped down.
Speaking of Adelson, the casino magnate's own remuneration package rose 4.2 percent year-on-year to reach just under $12.71 million, from 2015's $12.19 million. Adelson's packages included some $3.43 million for his and his immediate family's security, according to the filing.
Adelson's 2016 pay package included stock awards with grant date fair value reaching $1.82 million, up 47.9 percent from his 2015 package. The businessman's non-equity incentive plan compensation, however, fell 9.4 percent to nearly $4.34 million.
Also named in Sands filing was George Tanasijevich, who heads the company's Singapore venture Marina Bay sands. Tanasijevich, who also holds the title of managing director for global development, received a total compensation of just over $2.03 million.
Sands China promotes veteran exec to CFO
Las Vegas Sands' Macau subsidiary, Sands China, has appointed Dave Sun Min Qi as its new chief financial officer, effective immediately.
The casino operator said Sun is a veteran executive of Sands China, who was appointed director of finance in August 2007. He was promoted to senior VP of finance in 2013, the company said in a filing to the Hong Kong Stock Exchange.
"During his tenure as director of finance for the company, Mr Sun was responsible for managing financial strategy and financial planning and analysis at the company, and he also played a key role in managing the company's initial public offering in 2009," Sands China said in a statement.
Sun fills in the position that was left open following Stephen Law Cheuk-kin's resignation in January 2017.
Comments