Nevada Governor Brian Sandoval has refuted an ESPN story claiming that Dallas Cowboys owner Jerry Jones lobbied on behalf of legalization of daily fantasy sports in his jurisdiction.
Sandoval's denial comes after ESPN's Outside the Lines reported that Jones, who was trying to broker a deal behind the scenes to make the Raiders move to Las Vegas happen, brought up the daily fantasy sports legality during his phone call with the governor.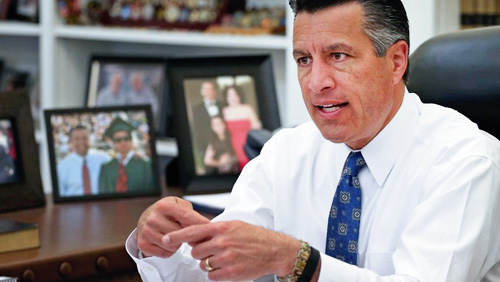 The Nevada governor, in response to the report, called the ESPN account on the supposed call between him and Sandoval 'patently false,' maintaining that the DFS issue never cropped up during his conversations with the Dallas Cowboys owner.
"The Governor and Mr. Jones have never had a conversation about Daily Fantasy Sports and ESPN's suggested implication to the contrary is patently false," Sandoval's spokesperson said on Friday, according to Legal Sports Report. "The Governor believes that fantasy sports constitutes sports betting and thus requires a gaming license in Nevada. The State has not altered its regulatory scheme or proposed any changes to Nevada law to accommodate any specific business."
Last week, ESPN ran a story on how Oakland Raiders owner Mark Davis successfully transferred Raiders to Las Vegas, and said the move would not have been possible if not for the help of Jones.
Jones, who was an early investor in DraftKings, reportedly promised to do everything that he could to bring the Raiders to Las Vegas. The report, however, mentioned the supposed conversation of Jones and Sandoval wherein the former asked the governor to work to legalize DFS in Nevada in exchange for the Raiders' move to Nevada.
But ESPN's Don Van Natta reported that "several key sources" said DFS came up, despite the denial from the governor's office.
The issue on legalizing DFS is not new in Nevada. Last year, the Nevada Gaming Policy Committee held several discussions on DFS legalization, with both government officials and gaming industry aiming to take the lead on regulating the industry in the U.S.