Odds courtesy of OddsShark.com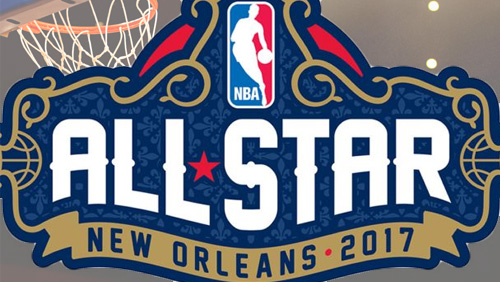 While the NBA Slam Dunk Contest has reduced its field since inception – limited to just four participants for the most part starting in 2002 – and seen the quality go down as well, the Three-Point Contest has remained a legitimate test of skill for those entering.
This year's co-main events on NBA All-Star Saturday Night feature a couple of experienced favorites, and a bunch of other players looking to pull off the upset.
One could certainly argue that the Three-Point Contest is the more exciting of the two now because there are more NBA All-Stars participating in it than in the Slam Dunk Contest. Klay Thompson of the Golden State Warriors will defend his crown as the reigning Three-Point Contest champion, following in the footsteps of teammate Stephen Curry who won it in 2015.
Meanwhile, two-time defending Slam Dunk champ Zach LaVine will not defend his title because he suffered a torn ACL on February 3.
Thompson is listed as the +110 favorite in the Three-Point Contest over seven other players, although Curry is not one of them, as he has decided to sit out the event for the first time in five years. The duo is tied for the all-time record of most points in a round with 27, with both of their performances taking place in the finals.
Kyrie Irving of the Cleveland Cavaliers looks to be Thompson's stiffest competition as the +400 second choice followed by C.J. McCollum (+800) of the Portland Trail Blazers, Eric Gordon (+900) of the Houston Rockets,  Kyle Lowry (+900) of the Toronto Raptors, and Nick Young (+900) of the Los Angeles Lakers.
In LaVine's place, last year's runner-up Aaron Gordon of the Orlando Magic is the -155 favorite in the Slam Dunk Contest. Gordon fell to LaVine on the second tie-breaking dunk in the finals 50-47 and will have the opportunity to win his first title against three newcomers this year, including DeAndre Jordan of the Los Angeles Clippers, who is listed at +800, with Glenn Robinson III of the Indiana Pacers at +900.
Jordan is the only player in the field who will be playing in the All-Star Game on Sunday.
The second choice to win the Slam Dunk Contest is an intriguing prospect in rookie Derrick Jones Jr. of the Phoenix Suns at +130. The undrafted forward out of UNLV has split time between Phoenix and the team's D-League affiliate, but he is known to have some serious hops and won a national high school dunk contest two years ago.
Comments