Peter Foster is about to spend more time in police custody.
The 54-year-old was ordered to two months in jail after a fresh fraud case against him was adjourned in a court in Sydney on Thursday, The Daily Telegraph reported.
According to court documents, Foster has been charged with five counts of publishing false misleading material to obtain advantage and two counts of dishonestly obtaining financial advantage by deception. Authorities said Foster used the identity "Mark Hughes" to extract money from a South African man living in West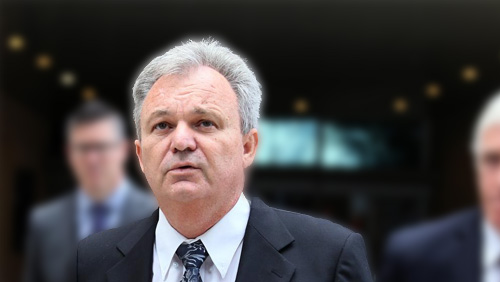 ern Australia, who invested $150,000 in Foster's online betting company, The Sports Trading Club, in 2013.
Police said Foster and an accomplice also tried to convince the victim to buy the club's South African license for $1 million. Foster allegedly convinced the man to deposit the money into a Hong Kong account under Bella Development Pty Ltd. to purchase the license, according to The Sydney Morning Herald.
The victim had deposited more than $1.5 million into the Sports Trading Club and the Hong Kong accounts, but has not seen a cent of his money since.
If you recall, Foster was arrested in Byron Bay, New South Wales, in October 2014 after spending 12 months running from police. He was found guilty of contempt for ignoring a ban imposed in 2005, which prevented him from getting involved in the $6 million oral diet spray scam.
It was there that authorities discovered that Foster co-founded the online betting company, The Sports Trading Club, while hiding from police. Authorities said the man earned millions from sports betting scheme, which Foster and his associates ran from his rented mansion in Byron Bay.
Now, authorities said the club had received a total of $28 million in investments since its establishment, but the majority of the amount had been re-invested overseas. According to investigators, Foster was planning to leave the country and "use the money to continue the alleged fraud outside Australia."
Foster, who was re-arrested on the Gold Coast last week, said he was caring for his 85-year-old mother and has no plans of leaving the country, telling a Queensland court judge: "I could be anywhere. I'm not going to run away from my family… I'm not going to be an orphan."
Police said they are trying to trace and freeze some of the millions.