Manila, Philippines, January 2017 – Day 2 of the APT Main Event saw local pro Czardy Rivera rise from a slightly below average stack to emerge as the chip leader with a towering 884K stack.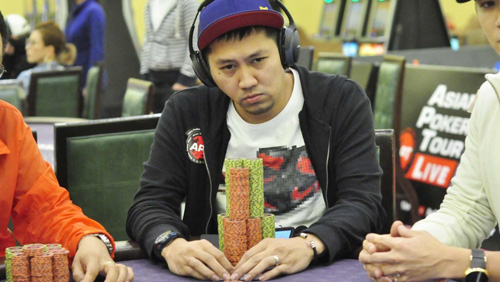 Day 2 began with 47 players returning to the tables led by chip leaders' Japanese player GACKT and France's Benjamin Gonzva. With many short stacks in the mix, it was no surprise to see some early dropouts. Rivera helped out by eliminating Seong Ryun Lee with his pocket jacks winning the coin flip against Lee's ace-king.
Later, Rivera became one of the chip leaders after claiming a big pot against Germany's Guido Budack that didn't reach a showdown. On a board of 6♣ 8♣ 10♥, Rivera laid out a hefty three-bet that pushed Budack out of the pot. To cap his day, a pot that saw four players in until the river betting, earned him a massive pile to finish his day high above the rest. Click here for the hand report.
Finishing the night running second in command was the Day 1A chip leader, GACKT, with 729K in chips. GACKT was one of the most consistent players today. He maintained his leader status for a large majority of the day, relinquishing very little chips, and making it difficult for players to double up through him. When the field downsized to two tables, one of GACKT's biggest pots was earned against Rivera with his K♥ Q♦ top pair on a board ofQ♥ 4♠ 8♣ 3♠ J♥. Click here for the hand report.
Taking the third spot in the chip rung was Korea's Hyungtaek Jo "Sanay" with 582K in chips. Jo was the sweeper for several players today. His first big takedown was Filipino Michael Capinpuyan whose two pair at the flop was burned by Jo's flush on the river. Almost immediately after, he finished off Japanese pro Tetsuya Tsuchikawa with a winning set of sixes giving him the chip lead for the first time. Filipino player JC Sayo also couldn't gain an inch, running into Jo's K♣ K♠ and out of the tournament.
The fourth spot went to China's Yin Zhang with 539K in chips. Zhang entered the day in the upper tier with a very healthy stack accumulated in Day 1B. Zhang grinded for many pots today and even sent several players to the rail including Singapore's Dhanesh Chainani and Filipino pro Lester Edoc. In the hand against Chainani, his straight at the flop with 8♠ 6♦ on a board of 9♦ 5♦ 7♥ 2♠ J♣ crushed Chainani's pocket queens. Click here for the hand report.
Rounding out the top five players was Germany's Charly Wittmann with 378K in chips. Wittmann was crippled down to a very short stack early in the day but he rebounded, making several big calls to ship in much needed pots. His impressive rise included the upset of one of the day's entering leaders, Joo Hyun Park, catching a lucky trips on the river. Click here for the hand report.
Day 2 closed with 17 remaining players. Among them were past APT Main Event champions Samad Razavi and Alexis Lim. Both players have their work cut out for them in Day 3 with below average stacks.
Today's fallouts included many notable pros such as Iori Yogo, John Tech, Alex Lee, Terry Gonzaga, Kunal Patni, Marc Rivera, and Julian Hasse. Gonzva was also eliminated, falling at the hands of the lone female left in the field, Japan's Ranmi Chung.
The live reporting team captured many exciting hands today which can be found in the Live Updates section of the website.
The Asian Poker Tour is currently at Resorts World Manila with the US$1,650 buy-in APT Main Event as the featured tournament of the ongoing nine-day APT Kickoff 2017. The Main Event resumes tomorrow with Day 3 action kicking off at 1pm.
Main Event stories:
GACKT rules Day 1A
Benjamin Gonzva tops Main Event Day 1B
For media inquiries, you may contact:
Monique D. Suñega
Email: [email protected]