Manila, Philippines, January 14, 2017 – Several days ago, the Asian Poker Tour opened its calendar year with the nine-day APT Kickoff 2017 at Resorts World Manila. Today saw the highlight tournament, the US$1,650 buy-in APT Main Event, enter its first day. After a scheduled eight rounds of play, it was Japanese player GACKT who ruled with a massive stack of 474,300.
While no one came close to the leader's arsenal, finishing in second position was Vietnam's Van Sang Nguyen, fresh off a deep run at the Head Hunter event. Nguyen surged on the last hand of the night turning up a full house to oust a player and bag up 234,600 in chips. Rounding out the top three was another Japanese player, Yoichi Uesugi with 204,900 in chips.
The APT Main Event kicked off fairly quiet with only a few tables filled up. Despite the low numbers, there were many notable players coloring the field. Among those who made it through to Day 2 were APT POY 2016 champion Iori Yogo, past APT Main Event champions John Tech and Czardy Rivera, and notable players Tetsuya Tsuchikawa, Alex Lee, Kunal Patni, Lester Edoc, and Terry Gonzaga.
As for notable players Mike Takayama, In Chul sin, Mark Amparo, and Michael Kim Falcon, they were less fortunate however they do have the opportunity to get back in the running with Day 1B kicking off tomorrow, Sunday, January 15th.
Day 1A finished up with 24 players remaining. Chip counts can be found in the APT Facebook page.
Hung Sheng Lin takes down the Head Hunter event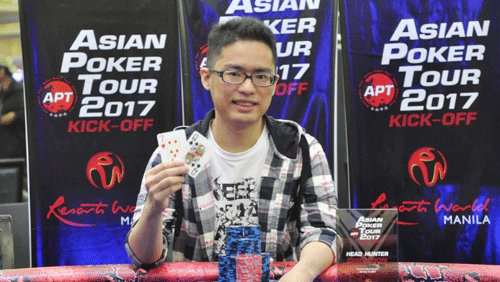 The Head Hunter US$100/Bounty event resumed early today with 7 players out of the 74 entries back for their final duel. APT Regional POY 2016 Greater China bracket winner, Hung Sheng Lin, came out victorious to claim the US$5,900 first prize and the event trophy.
The final action began with short-stacked Anh Tuan Nguyen quickly getting the boot in 7th place. It followed with the day's entering chip leader, Van Sang Nguyen, shaken up with a nasty bad beat against Neil Lawrence. The hand saw both players all in at the flop of A♣ 9♥ 9♦, with Nguyen ahead holding A♦ Q♥ and Lawrence with J♥ J♣. When the J♠ spiked on the turn, Lawrence landed his two-outer and improved to a full house which held to cripple Nguyen. A few hands after, Nguyen was downed in 6th place.
Out in 5th place was Julius Aldave who had difficulty rising out of the dregs, and Anthony Gabitan joined the rail in 4th place after his A♥ J♥ lost to Lin's J♦ 8♥ on a board that ran 7♥ 9♥ 9♣ 8♣ 6♣. Gerard Bringley packed up in 3rd place with Lawrence's A-9 besting Q-9.
The heads up round began with Lin on a 2:1 chip advantage. In no time, the final showdown was reached with Lawrence turning up J♠ 10♠ against Lin's Q♠ 7♦. The board came J♥ K♠ 9♥ 10♣ A♠giving Lin a winning straight and the last bounty of the  tournament.
Payouts
1st Hung Sheng Lin – Chinese Taipei – US$5,900
2nd Neil Lawrence – Malaysia – US$3,640
3rd Gerard Bringley – Japan – US$2,660
4th Anthony Gabitan – Philippines – US$2,070
5th Julius Aldave – Philippines  – US$1,790
6th Van Sang Nguyen – Vietnam – US$1,560
7th Anh Tuan Nguyen – Vietnam – US$1,360
8th Charles Moss – Ireland – US$1.210
9th Kenjo Ohashi – Japan – US$1,120
You can watch all the Final Table action in the APT Twitch channel. Daily Highlights are also ready for your viewing enjoyment in the APT YouTube channel.
For media inquiries, you may contact:
Monique D. Suñega
Email: [email protected]
Comments