Without further ado, behold the stories that had everyone's chins a wagging in 2016:
OH MY, UH…
If Canada's Amaya Gaming was a hockey team, commentators would say their season was ruined by 'off-ice distractions.' Despite Amaya's flagship PokerStars brand making its triumphant return to US shores and continued progress in diversifying beyond its pure poker roots, Amaya headlines were dominated by allegations of illegal insider trading and fumbling attempts at acquisition and privatization.
Amaya CEO David Baazov stunned the markets in February by announcing plans to acquire the company and take it private. The following month, Quebec securities regulators filed criminal charges against Baazov, accusing him of running an illegal kickback scheme by providing advance info on Amaya deals to a group of individuals that included his brother Josh/Ofer and Craig Levett, the pair behind former scam betting site BetonUSA.
Following the allegations, Baazov took a leave of absence from Amaya before resigning as CEO in August, with Rafi Ashkenazi assuming the chief exec's role. Amaya then had a public flirtation with UK bookmaker William Hill regarding an "all-share merger of equals," but these plans came to nought after Hills' shareholders expressed reservations.
Baazov then submitted an improved takeover bid, a proposal that turned seriocomic when one of his four financial backers claimed to have never heard of Amaya, while another of the four proved to be a phantom. Baazov later clarified that his bid was now supported by only two firms, neither of which had a history of billion-dollar investments. Inevitably, Baazov formally abandoned his bid last week due to the demands of "certain shareholders."
PHILIPPINES GAMING MARKET UPHEAVAL
The Philippines, home to most of the Asian-facing online gambling industry, underwent a dramatic upheaval midway through the year when newly elected President Rodrigo Duterte used his first cabinet meeting to declare that "online gambling must stop."
Duterte said his objective was to reduce gambling's impact on Philippine society, and thus the first blow fell against operators of the electronic gambling parlors that are accessible by local residents.
One month after Duterte's pronouncement, eGames technology provider PhilWeb was forced to wind up operations after the Philippine Amusement and Gaming Corporation (PAGCOR) declined to renew the company's license. However, the 5k employees that were thrown out of work found reason for hope after Duterte suggested PhilWeb's operations could resume subject to certain conditions.
Since the international online gambling sites licensed by the Cagayan Economic Zone Authority (CEZA) didn't take action from Filipino citizens, they believed it was business as usual. But PAGCOR announced in September that all online gambling operators must apply for new Philippine Offshore Gambling Operator (POGO) licenses. The first 35 POGO licenses were issued in December.
The new get-tough policy on online gambling also featured numerous busts of illegal operators, culminating with the arrest of 1,316 Chinese nationals working without permits for an online operation run out of Jack Lam's Fontana Casino in the Clark Freeport.
The Lam affair came to dominate December's headlines after he was accused of attempting to bribe Philippine officials, including the boss of PAGCOR, to allow the continued operation of his unauthorized online business while his POGO license was pending.
Lam, who fled the country shortly before Duterte ordered his arrest, was told he could resume his operations if he pays back taxes and submits to PAGCOR's authority, but Duterte later ordered his gaming properties seized for non-payment of taxes.
In the past week, Duterte flipped the script again, repeating his earlier pledge that all online gambling had to go. While his latest speech has been interpreted as no threat to the new POGO regime, the only certain thing is that no one but Duterte truly knows what the future holds for the nation's online industry.
US CONSTIPATED, ER, REGULATED MARKETS
Only two US states made serious efforts to pass intrastate online gambling legislation in 2016, and neither was successful in pushing their bills over the finish line. This marks the third straight year of US regulated gaming inertia and nearly four years since New Jersey Gov. Chris Christie signed his state's gambling bill into law.
Pennsylvania came closest to legislative success, with the House approving its online casino, poker and daily fantasy sports bill in October. But the Senate opted not to hold a vote on the issue, in part due to online being just one component of an omnibus gaming measure, some aspects of which are even more divisive than online gambling.
California's online poker backers appeared to make more progress in 2016 than in previous years, but while the state's racing industry was finally bribed into acquiescence, the rest of the state's fractious stakeholders proved as unwilling as ever to bridge their divide.
A late effort at California 'compromise' would have seen PokerStars subjected to a 10-year 'bad actor' timeout. This period was later reduced to five years, but PokerStars, its California partners and the Poker Players Association declared they'd rather see no poker bill passed than see Stars forced to sit on the sidelines, leading many players to wonder why their fates had to be so entwined with a single company.
Token efforts at online gambling legislation were made in New York and Michigan, while Massachusetts policy makers continued to hold meetings at which they reached consensus on the need to hold more meetings about reaching consensus on online gambling.
ESPORTS BETTING GETS SKINNED ALIVE
The year saw a significant rise in eSports betting's public profile, but as with daily fantasy sports in 2015, the press was largely negative. While bona fide wagering on the outcome of eSports events made inroads at traditional bookmakers, it was the far more controversial category of 'skin betting' that garnered the headlines.
By July, eSports game developer Valve Corp was formally demanding that third-party sites stop using its Steam marketplace to facilitate betting with skins, aka in-game virtual goods, on lottery-style games with random outcomes. It took a while, but the major skin betting sites eventually conformed to Valve's edict.
Valve, which had long turned a blind eye to the practice of skin betting, had its Road to Damascus epiphany after getting hit with class action lawsuits. The suits were filed by aggrieved players who'd been convinced to wager on skin betting sites promoted by several eSports players who failed to disclose their ownership stakes in the sites.
The headlines got worse in September when the UK Gambling Commission filed the first legal action against a pair of eSports YouTubers for promoting illegal gambling. The following month, Washington state regulators threatened legal action against Valve unless it did more to purge skin betting operators from Steam.
The news wasn't all negative, as regular eSports betting against the house got a boost in November after data provider Betradar inked a deal with DOJO Madness to provide traditional bookies with eSports betting odds. That same month, William Hill US became the first Nevada-licensed bookmaker to offer eSports wagering and online betting mainstays Pinnacle announced in December that its eSports betting count had more than doubled in 2016.
DAILY FANTASY SPORTS COMEDOWN
Like Icarus, the US daily fantasy sports market fell back down to earth in 2016. Guaranteed prize pool entry fees were down at both DraftKings and FanDuel, and neither company came anywhere near last year's excessive marketing expenditure, in part because they could no longer afford it.
Both companies were knee deep in lawyers dealing with class action lawsuits and paying millions to resolve the New York Attorney General's deceptive marketing probe. The companies were also spending big on lobbyists to convince state and federal politicians not to impose further restrictions on DFS activity after last autumn's backlash.
After months of rumors, November saw DraftKings and FanDuel announced plans for a "strategic merger of equals." While the merger would allow the companies to cut costs by sharing legal burdens and trimming payrolls, doubts remain as to whether anti-trust regulators will approve the creation of a company that would utterly dominate the US DFS industry.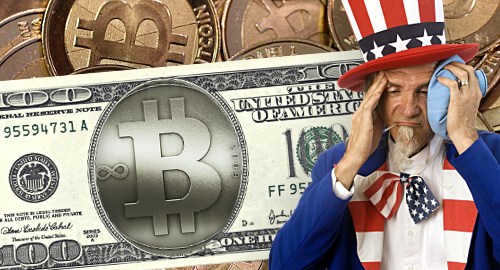 BITCOIN
2016 was the year in which Bitcoin truly made its presence known in the online gambling sector. Until recently, most bitcoin-friendly online gambling sites tended to be simple binary-outcome 'dice' games, which nonetheless accounted for a significant volume of total Bitcoin transaction volume.
In August, the UK Gambling Commission (UKGC) added the phrase "digital currencies" to its online licensees' list of acceptable payment methods. The UKGC claimed this addition was only the formalization of existing policy, but the recognition still represented a major feather in Bitcoin's cap, as the only other regulator to date that had formally approved Bitcoin use was Curacao.
Within two months, NetBet announced that it was the first UK-licensed online betting site to offer Bitcoin payment options. Larger operators are sure to follow in the new year, and other regulatory bodies will likely adopt the UKGC's stance.
Bitcoin also made further inroads with internationally licensed online gambling sites that serve the US market, a trend that will only accelerate as US authorities continue to pressure fiat currency payment processors to eliminate gambling transactions both in the US and in other international markets.
RUSSIA'S NEW RULES
The Russian market welcomed its first officially licensed online sportsbook in February via Liga Stavok, which has since been joined by a flurry of other bookies. The online transition has been slowed by the requirement to channel all online payments through centralized hubs, registration for which can be a tedious three-stage process that involves ID confirmation at retail points-of-sale.
To help funnel Russian bettors to these new sites, the nation's telecom watchdog Roskomnadzor has been blacklisting unauthorized gambling domains with the same level of enthusiasm that Russian fighter-bombers display when attacking Syrian civilians. In one week alone in November, Rodkomnadzor blocked nearly 1,000 domains.
This online clampdown went beyond actual betting sites to include payment processors, online gambling affiliates, other advertising channels, even the gambling sites' social media accounts. In November, legislators announced plans to boost Roskomnadzor's ability to automate the process of blocking mirror sites for previously blocked operators.
Russia's licensed bookies were also hit with a series of significant fee and tax hikes, leading the industry to complain that legislators didn't understand how the betting business worked. While one of these hikes was later reduced, Russia's bookmakers continue to believe their industry is being squeezed to a point that the regulated market – which still hasn't offered any indication it plans to approve poker or casino products – will be unviable.
REGULATORS' CONCERNS OVER 'GREY MARKET' ACTIVITY A SHAM
The year saw several major gaming regulatory agencies admit that their stated interest in what their online gambling licensees did in other markets was largely posturing.
In 2014, the UK Gambling Commission implemented its new online licensing regime, which required all UK-facing operators to legally justify their operations in any international market from which they derived 3% of more of overall revenue.
Most operators responded with token gestures, exiting a handful of unprofitable markets while remaining in larger markets that were more crucial to their bottom lines. In February, Bwin.party's new owner GVC Holdings announced that Bwin.party brands would be re-entering many of the markets they'd previously fled, a seemingly provocative move that elicited no response whatsoever from the UKGC.
In October, UKGC compliance manager Richard Bayliss participated in an EiG Berlin seminar, during which he confessed that the UKGC had little interest in extraterritorial policing and that the UKGC "was not going to force laws upon other jurisdictions." Only if a country were to launch legal proceedings against a UK-licensed operator would the UKGC even consider mounting its own investigation.
Similarly, the grey market policy the New Jersey Division of Gaming Enforcement (DGE) announced in April for its online licensees was exposed as toothless in June when the DGE found GVC's business in legally sketchy markets were no impediment to the Bwin.party brands continuing to operate in New Jersey.
Three months later, the DGE struck a deal with the Kahnawake Gaming Commission (KGC) to force KGC licensees to halt their US-facing operations. The fact that the DGE made the effort to shield DGE-licensed sites from international competitors while ignoring licensees' actions outside the US exposed the DGE's high-minded suitability requirements as little more than bog-standard protectionism.
AUSTRALIA'S NEW LEGISLATION
Australia's online sports betting market got a forced makeover in 2016, as legislators were forced to respond to operators' ingenious but provocative methods of dodging the country's online in-play betting ban.
April brought the release of the government's review of the Interactive Gambling Act (IGA) 2001, leading the Northern Territory Racing Commission to order its licensees to shut down their in-play apps.
In November, the government introduced amendments to the IGA that explicitly banned digital in-play betting (unless your name is Tabcorp or Tatts) while formally banning online poker and casino sites, prompting PokerStars to admit its Aussie-facing site was living on borrowed time.
The year also saw Australia infected by the UK gambling sector's merger mania via the announcement of a deal between Tabcorp and Tatts. Concerns have been voiced that the combined entity would have too much control over certain sectors, such as pari-mutuel wagering, and thus the deal might not pass the anti-competitive smell-test. International operators may yet crash the party by making a better offer for either Tabcorp or Tatts.
EUROPEAN MARKET REGULATION: WIN SOME, LOSE SOME
October brought an apparent resolution to the four-year legal tussle over Germany's sports betting laws. Germany's 16 states announced that they'd reached consensus on a plan to scrap the 2012 federal gambling treaty and lift its cap on the number of sports betting licenses.
The German states also said they were considering authorizing online casino sites, reversing a position they'd re-emphasized as recently as March 2016, when they expressed a preference for "minimally invasive surgery" to repair the flawed 2012 treaty.
Poland announced its own online gambling liberalization, although it plans to restrict online casino and poker operations to its domestic gambling monopoly and is sticking with the punitive 12% sports betting turnover tax that operators have claimed is unworkable.
Portugal doled out its first online gambling licenses, including its first online poker license to PokerStars, which got off to a fast start as the only legal online poker option in town.
In September, Greece vowed to issue its long awaited new online gambling licenses in "a maximum of one month," yet no licenses had been issued as of December. The Netherlands' new gaming legislation inched forward but still hasn't crossed the finish line. And Norway opted to stick with its gambling monopoly rather than license international operators.
In September, gaming regulators in select European markets reached a landmark agreement to reach another landmark agreement sometime next year to allow their licensees to pool online poker liquidity.
ALSO RANS
NYX Gaming Group acquired sportsbook technology provider OpenBet with a financial assist from William Hill, who, given their history with NYX rivals Playtech, probably didn't relish the thought of OpenBet becoming part of Playtech's ever expanding empire.
Quebec passed its controversial Bill 74, which aims to bring internet censorship to Canadian shores for the first time by blocking the domains of Loto-Quebec's online competitors. But Canada's federal telecom regulator declared a turf war against Quebec's protectionist policies, meaning Loto-Quebec will eventually have to find other means of allowing its uncompetitive product to compete on the open market.
Nevada sportsbook tech provider CG Technology came apart at the regulatory seams in 2016. In July, the company was found to have knowingly ignored a software glitch that underpaid parlay bettors, a failure that cost the company $1.5m and cost CEO Lee Amaitis his job. In October, CGT reached a $22.5m settlement for allowing organized crime figures to launder money via illegal messenger wagers at CGT sportsbooks. All of which kinda poked major holes in all that malarkey about gold standard regulatory regimes that supposedly prevent operators from behaving badly.
The year also saw online gambling operators face powerful new distributed denial of service (DDoS) attacks built around Internet of Things botnets. The most spectacular of these attacks came against William Hill, which was knocked offline for several days in November, leading many battle-scarred veteran operators in so-called banana republics to marvel at Hills' lack of preparedness.
Comments