December, 2016 – London, UK (Press Release): Mobile-first sports betting app Bookee has been awarded the top prize in the prestigious Brightest Minds Showcase at the iGaming Entrepreneur Conference.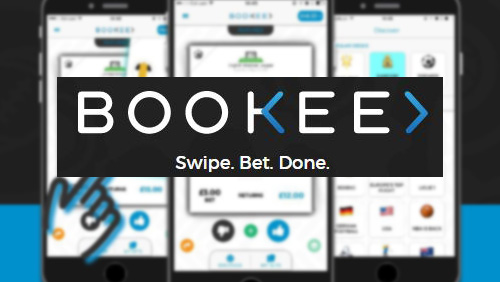 The innovative platform – which is being described by many as Tinder for betting – was chosen ahead of 12 rivals at the London event as it scooped a mentoring and professional services package worth more than £25,000.
Each entrant presented a 60-second pitch video before answering questions from the assembled experts, mentors and investors at the Grange Hotel, Tower Bridge. In a highly-competitive field, the judges were ultimately wowed by the Bookee app, which offers users the chance to place a bet with the simple swipe of a finger.
"The mentoring and service providers all voted on their top three-rated projects based on innovation, team, likelihood of success and several other factors," said Michael Caselli, the organiser of iGaming Entrepreneurs Conference, which took place on December 6.
"We then scored all the projects to find a winner that each mentor and provider agreed they would like to support and work with."
Bookee was founded by former school friends Adam Kalmanson, previously with William Hill, and Adam Wilson, once of 888, with the aim of creating a personalised and social platform for the recreational gambler.
Already available via Apple's App Store, the Bookee app curates individual sports bets for the user and provides them with a single instinctive binary action for each bet. Just like the Tinder dating app, users swipe right to approve or left to reject.
Since its formation, Bookee has raised a pre-seed round from leaders in the gaming industry, launched in beta with hundreds of paying users and is now looking to raise a seed round to "commercialise and truly disrupt the B2C betting space". During testing over the course of the Euro 2016 football tournament last summer, Bookee's margin was found to be well above industry average.
Kalmanson said: "We are delighted to have won the Bright Minds Showcase at this year's iGaming Entrepreneurs Conference. We'd like to wish all our fellow start-ups the best of luck in 2017, and look forward to sharing more awesome features in Bookee in the coming months.
"Bookee is about simplicity. We invented this app because we became frustrated with how stuck in the past parts of the betting industry are. Where other betting sites have adapted a 100-year-old infrastructure to retro-fit the smartphone revolution, the Bookee app is specifically designed for mobile use only."
By winning the Bright Minds Showcase, Bookee will receive four hours of mentoring each from Mark Blandford, founder of Sportingbet and industry investor; Nicky Senyard, founder of Income Access; Melissa Blau, founder of iGaming Capital; and multi-family office, Boston.co.im who will provide payment and international development consulting. The package also includes professional services packages including legal advice from iGaming legal experts Harris Hagan; specialist accountants BDO, creative specialists Vegas Kings, iGaming public relations experts Lyceum Media and compliance specialists NMI. This services package provides essential iGaming expertise in areas crucial for entrepreneurs developing their businesses in this sector.
About Bookee
Bookee is a mobile sports betting app using technology to create a simple, personal and fun customer experience. Think – 'tinder' for betting. It curates individual personalised sports bets for the recreational gambler and provides them a single instinctive binary action for each bet – swipe right to approve or left to reject. To find out more, visit www.bookee.co.uk
About the iGaming Entrepreneur Conference
The iGaming Entrepreneur Conference, which took place on December 8, 2016 in London, is essential for entrepreneurs, venture capitalists, incubators, accelerators, private equity and angel investors who see value in the multi-billion pound iGaming sector. The conference is essential for the continued development of innovation in gaming, and is a unique forum that brings focused iGaming entrepreneurial opportunities to investors. This year, the conference introduced a unique mentoring programme for entrepreneurs, providing personalised mentoring and professional services to the winner of the brightest minds showcase. The conference reflects the vibrant entrepreneurial community in the industry and inspires attendees through a thought provoking and practical conference. Visit the website for more information: www.iGamingEntrepreneurs.com