Macau, China, December  2016 – The Asian Poker Tour Finale Macau 2016 was packed from wall-to-wall with a huge turnout of 169 players for the final flight of the APT Finale Macau Main Event held at the Crystal Palace in Casino Lisboa. With a deep structure and steady blinds that increased every sixty minutes, it meant ample playing time and lots of hands to choose from. After the scheduled eight rounds of competition, the room was still buzzing with 105 players surviving the day.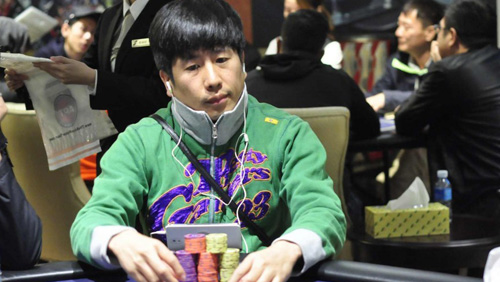 Main Event Day 1B Chip Leader, Saehoon Lee
Emerging as the chip leader was Korea's Saehoon Lee with a large stack of 293,200 at bagging time. Lee claimed one of the last hands at his table with his A-9 higher kicker winning over A-4 on a board of 2-K-A-J-5 to seal his lead. Finishing up with the second largest stack was another Korean player, Lim Yo Hwan aka Boxer, with 214,100 in chips; and rounding out the top three was India's Praveen Dwarkanath with 200,600 in chips.
Day 1B saw many notable pros scattered all over the room with a good number them still in the running. Reigning champion, China's Dong Guo, was among those who made it through. We were able to catch one of Guo's winning hands, ousting Japanese pro Kosei Ichinose right after registration closed. Guo's J♦ 10♦ both paired up against Ichinose's K♣ K♠. Also making the list were Singapore's Alex Lee, Guam's Toniyoung Degracia, Taiwan's Pete Yen Han Chen, Japan's Gerard Bringley, Yuri Ishida, Jack En-Ching Wu, and current leader of the APT Regional POY 2016 Korea, SJ Kim.
While a large majority of players held on to their stacks, there were several notable players who were given the boot. Among them was Main Event Warm-Up champion, Edward Pastoll who had a dramatic end with his pocket kings running into pocket aces. Pastoll actually improved to a set on the flop but when the board completed out with four diamonds showing, he was eliminated by a nut flush. Kevin Tse, Nick Cho Wong, and Annie Bordallo also failed to advance.
You can view the chip counts in the APT Facebook page.
Korea's SJ Kim wins the No Limit Hold'em 1 event
Running alongside Main Event Day 1B was the conclusion of the No Limit Hold'em 1 event that began yesterday with 50 players in the field. Returning today were 8 players looking to win the largest piece of the HKD145,500 prize pool. Coming out on top was Korea's SJ Kim who defeated Hong Kong's Alan Wu at the heads up round to claim the HKD58,200 first place purse and the event trophy.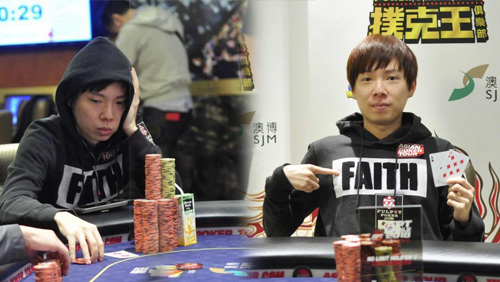 No Limit Hold'em 1 Champion, SJ Kim
Midway through yesterday's battle at the felt, Kim was clearly on fire, amassing a very large stack, but by the time the final table was set, he had dropped to average stack. With payouts starting at five places, Kim claimed multiple big pots to enter the money round as the leader. The first player to visit the cage for a payout was Lai Heng Tse in 5th place. Kim eliminated Kai Paulsen in 4th place to hold a dominating lead against his remaining opponents, Ku Isayama and Wu.
Between the two, Isayama had the shortest stack but wasn't going down that easy. He moved all in with Q♣4♦ and was called by Kim and Wu. This resulted in a triple up for Isayama but was still way below average. Isayama shoved again and landed a double up against Wu with a full house. After those two wins, his next two shoves sent him out in 3rd place with both Wu and Kim getting a piece of his stack.
The heads up round began with Kim holding a 4:1 chip advantage against Wu. Eager for the trophy, Wu was fearless and put the heat on Kim. One of the hands saw Wu win a pot with pocket aces over pocket jacks, then later double up with Q♠ 6♥ getting lucky with a straight against K♠ 10♥ on a board of 5♦ 4♣ 9♥ 2♥3♥.
Heads up round: Alan Wu vs. SJ Kim
After several more exchanges, Kim took back some of his lost chips but Wu answered with another double up holding A♠ 7♣ over Kim's A♣ 3♦. This win seemed to boost Wu's confidence and he began picking up several pots to come close to even in stacks.
But it just wasn't meant to be. Kim claimed two pots that sent him zooming back up to a 4:1 lead. The first pot was with his 8♣ 7♥ mid pair against Wu's Q♦ 4♦ missed flush on a board of 6♦ A♥ 8♦ J♣ A♣, and the next one with 8♠ 9♠ outkicking Wu's 8♥ 7♣ on a board of 4♥ J♠ A♣ 8♣ 5♣. The final hand saw Wu all in with A-5 and Kim with A-8. The board ran dry giving Kim the victory.
Kim currently leads the APT Regional Player of the Year race for Korea. With this win, he distances himself even further from Lim Yo Hwan for the title.
Payouts
1st SJ Kim – Korea – HKD58,200
2nd Alan Wu – Hong Kong – HKD36,400
3rd Ku Isayama – Japan – HKD21,800
4th Kai Paulsen – Norway – HKD16,000
5th Lai Heng Tse – Hong Kong – 13,100
For media inquiries, you may contact:
Monique D. Suñega
Email: [email protected]
Comments