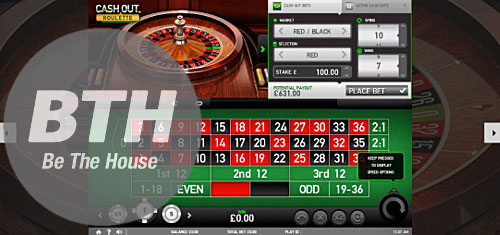 Online betting exchange Betfair has given its casino vertical a kick in the pants via the launch of Cash Out Roulette.
Betfair, now part of the Paddy Power Betfair colossus, has become the first UK operator to launch Cash Out Roulette, a new product that comes courtesy of London-based developer Be The House Ltd.
The product allows players a wider variety of options when it comes to roulette wagering. Instead of simply placing a bet on red, black or a specific number, Cash Out Roulette effectively allows players to make prop bets on multiple spins of the wheel, either in addition to their normal bets or on their own.
For example, players can bet on whether or not a specific number appears once over the next 10 spins, or how many times black squares will come up the next 20 spins. The game's name comes from the ability of players to cash out their wager for partial payout should they lose their nerve before the stated end of their extended wager.
Be The House CEO/co-founder Seth Freedman confessed that he doesn't have "a gaming background" but he couldn't help but noticing that "it didn't make sense that roulette is essentially over after each spin."
Freedman believes Cash Out Roulette will appeal to traditional roulette fans while also appealing to players looking for new twists on an old formula, as well as those seeking potentially higher payouts. Meanwhile, operators will presumably enjoy greater cross-sell opportunities and extended player sessions.
Betfair Casino is first out of the gate with Cash Out Roulette but Freedman said Be The House is working with "a number of other Tier One operators" who have expressed interest in launching the product in the coming months. Be The House is also prepping other casino products that utilize similar accumulative options.
Comments