Partnership sees Genius Sports provide full range of live data collection and administration services under its Sports Management Platform
(UK – London, October 2016) Genius Sports, a global leader in sports data technology, distribution and commercialisation services, has been selected by Asociacion de Clubs de Baloncesto (ACB), the body which oversees the premier men's basketball league in Spain, to unlock the value of its data in a three seasons long contract.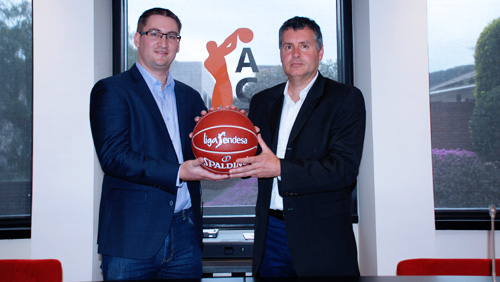 ACB will harness Genius Sports' LiveStats service, the world's most popular basketball live statistics tool which enables courtside capturing of live game statistics, live webcast publishing and reporting to coaches and media.
ACB will also gain access to Genius Sports' Competition Management technology and cutting-edge APIs for statistics distribution.
Alongside this strategic agreement and becoming Official Data Partner of the ACB, Genius Sports has secured the exclusive rights to distribute the ACB's data for betting purposes and non-exclusive media distribution rights, to fully exploit the value of the association's data.
From the collection to the commercialisation of data, Genius Sports' technology services enable sports to increase their efficiency and competitiveness while decreasing costs and maximising commercial returns.
Joan Manuel Carreras, ACB's Director of Business Development, said: "This agreement is a very important step for ACB in order to guarantee the utmost data information value for the Liga Endesa. Genius Sports' solution will allow us to keep our technological growth and to effectively share competition information with our clubs and sponsors."
Ben Turner, Director International Operations at Genius Sports, said: "The ACB is among the leading basketball leagues globally and we are delighted to be playing a major role in their technological growth. Unlocking the value of data and boosting fan, coach and player engagement is a vital component for helping sports to grow. Genius Sports is quickly becoming the data technology partner of choice for leagues and federations across the world."
For more information please contact:
Tom Washington
T: +44 7495 565 886
About Genius
Sports Genius Sports is a global leader in sports data technology, distribution and commercialisation services. Headquartered in London, Genius Sports is recognised as one of the fastest-growing sports technology companies in the world.
Founded on integrity, Genius Sports has become the trusted partner of hundreds of sporting bodies, including the world's largest international federations and professional leagues such as FIBA and Major League Baseball. Taking a true partnership approach to working with sport, we distribute official data for organisations such as the English Premier League, La Liga, ATP and WTA.
For more information: www.geniussports.com
Comments