Despite seeing a resurgence in its casino gross gaming revenue in the past two months, the International Monetary Fund says Macau's economy will shrink by 4.7 percent this year.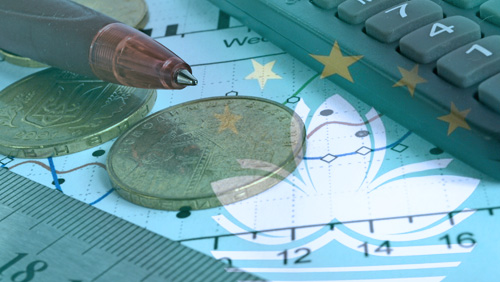 The good news, however, is that the present prediction of IMF on Macau's 2016 gross domestic product (GDP) is an upgrade to 7.2 percent contraction it earlier forecasted for the former Portuguese enclave's economy.
In its latest "World Economic Outlook" report, the IMF also adjusted downward its prediction for Macau's 2017 economy. From the initial forecast of 0.7 percent, the IMF believes that Macau's GDP will only see a 0.2 percent increase year-on-year.
The multilateral lender, on the other hand, is expecting Macau's inflation to pick-up this year by 2.6 percent year-on-year for 2016 and 2.8 percent in the following year. Data from Macau's Statistics and Census Service (DSEC) was at its lowest recorded growth since January 2010, at 1.65 per cent – so far this year CPI has averaged 2.83 percent.
Macau's unemployment rate, according to IMF, will remain stable at 1.9 per cent for this year and will see a slight uptick to 2 percent in 2017.
In addition, according to IMF predictions, the current account balance for the Macau is set to increase to 28.4 per cent of GDP, reaching 29.2 per cent for 2017, with far-future predictions for 2021 reaching 30.4 per cent, from 28 per cent in 2015. These predictions are far higher than the 2016, 2017 and 2021 predictions for April, which hit 20 per cent, 17.2 per cent and 24.5 per cent, respectively.
The latest IMF report comes out just days after Macau's Gaming Inspection and Coordination Bureau (DICJ) announced that the casino gaming revenue of Asia's premier gaming hub hit MOP 18.4b (US $2.3b) in September, up 7.4% from the same month last year.
The results exceeded most analysts' forecasts and continued the positive momentum established in August, which saw a 1.1% year-on-year gain that broke Macau's 26-month streak of revenue declines. However, total gaming revenue for the nine months through September is still off 9.1% to MOP 162.8b ($20.4b).
Comments