Gird your bitcoin wallets, Kim Dotcom has spoken.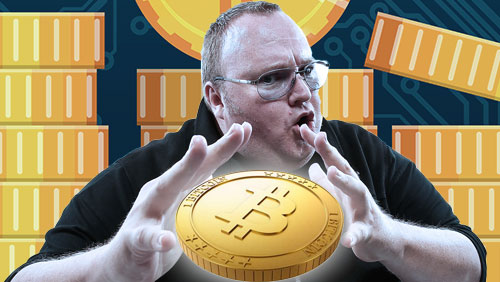 The internet entrepreneur recently polished his fortune telling skills with a prediction that popular digital currency bitcoin will see a serious surge in price—reaching as high as $2,000—in the next two years, thanks to his Megaupload 2 and Bitcache projects.
"MU2 and Bitcache will take #Bitcoin mainstream. I expect Bitcoin to hit the $2000 mark within 2 years," Dotcom tweeted last week.
The tweet was a reply to Twitter user Andreas Land, who asked Dotcom whether he thinks the price of bitcoin will rise because of his two endeavors. The veteran entrepreneur's answer, was of course, a resounding "oh yes."
A vocal supporter of bitcoin, Dotcom has repeatedly discussed his plans to strengthen not just the digital currency, but other uses of distributed ledger technology as well.
Dotcom's latest project is Bitcache, is a blockchain-powered method that allows users to attach a bitcoin transaction to files that they will upload on file sharing platform Megaupload 2, which is scheduled to launch in January 2017.
In a recent interview with Bitcoin Magazine, the internet entrepreneur likened Bitcache to that of an affiliate program.
"One feature is an affiliate system that allows any third-party site to provide income to people who drive traffic to their websites," said Dotcom, according to the news outlet. "For files, videos, news stories, music, any kind of content and recommendation. This can be accomplished in many different ways, by sending traffic via social media, your contacts, a blog or a website that can drive traffic. Uploaders of popular content will benefit."
Dotcom's bitcoin price prediction of $2,000 in the next two years is not an impossible feat—after all, the popular digital currency already managed to shatter the $1,000 ceiling back in 2013. However, it will be a struggle to reach that price, given how the digital currency landscape looks like today.
Current bitcoin price and trade volume
The price of bitcoin rose to $610.24 early Monday morning, with a trade volume of $100,480.4.
Comments