Doug 'WCG|Rider" Polk and Philip 'Grindation' McAllister both break records for the most cash ever won while playing and streaming on Twitch after coming one-two in the $10,300 buy-in No-Limit Hold'em 8-Max High Roller in the World Championships of Online Poker.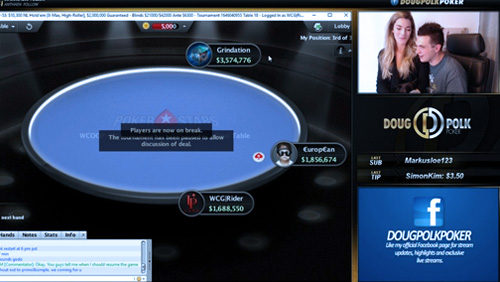 For the second time during the 2016 World Championships of Online Poker (WCOOP), the man who finished wearing the bridesmaid dress finds themselves in front of the flickering camera.
It happened to Fedor "CrownUpGuy" Holz when he finished runner-up to bcnb789 in the $102,000 buy-in Super High Roller, and it's happening to Doug 'WCG|Rider" Polk after finishing runner-up to Philip 'Grindation' McAllister in Event #53: $10,300 No-Limit Hold'em 8-Max High Roller.
The reason for the switch in emphasis is Twitch. Polk has become one of the most fascinating, absorbing, and controversial streamers in recent times, and the camera was rolling when the serious money was being doled out, creating a new record for the most money won on a Twitch stream.
356 entrants (278 entrants, 78 re-entries) created a prize pool of $3,560,000, and McAllister, Polk, and recent WCOOP winner €Urop€an stopped the action when three-handed, to secure a deal.
It was an interesting one with Polk telling both McAllister and €Urop€an that he had 'never done a chop before,' wanted 1-2% more than icm,' because he didn't want his 'talents to go unrewarded.'
Roughly translated that means:
"I am better than you. I will beat your asses into the ground. Be sensible. Give me my money."
Here were the ICM numbers:
McAllister – $514,400.27
€Urop€an – $460,714.75
Polk – $452,629.92
Polk decided that wasn't enough. He wanted $455k. The other two players seemingly happy with their rather large chunks of cash agreed to split the difference.
The split created two new records with McAllister already winning the most money ever recorded on a poker Twitch channel, and Polk winning the most ever while hosting the action on Twitch.
After the deal, €Urop€an, who won Event #35: $1,575 No-Limit Hold'em Super Tuesday Special Edition for $297,450.000 last week exited in third, and McAllister beat Polk in heads-up to take the $71,200 that remained up for grabs.
It was McAllister's first WCOOP title and caps off an amazing year. He won his first World Series of Poker (WSOP) bracelet in the summer in a $3k Shootout event for $267,720 and took third in the PokerStars Caribbean Adventure (PCA) Main Event for $356,020.
Polk won his second WSOP bracelet in the summer when he and his Upswing Poker business partner Ryan Fee took down the Tag Team contest.
It's the second time that Polk has held the record for the most money won when streaming on Twitch. His previous best was $162,000, which he won by topping a field in a PokerStars Mountain Series event. His latest record, now set at $455,000, means SolidPenis's record $250,000 Spin & Go win seems rather limp in contrast.
Final Table
1. Philiip 'Grindation' McAllister – $584,415.23*
2. Doug "WCG|Rider" Polk – $455,000,000*
3. €Urop€an – $459,529.71*
4. Alexandros "mexican222" Kolonias – $263,731.20
5. LLinusLLove – $194,561.47
6. ShefanHilaly – $143,532.79
7. Chris "Big Huni" Hunichen – $105,887.92
8. Keven "Stammdogg" Stammen – $78,116.36
* denotes three way deal
Comments