Tuesday, September 13th  2016, Budapest – The organizers are proud to announce the newest confirmed speaker, Stuart Trigwell (UK Sales Director – Global Bet, Virtual Sports), who will be among the keynote speakers of the "Hot topics of the online gambling markets in Europe" panel at the Central and Eastern European Gaming Conference (CEEGC 2016) which will take place in Budapest on the 20th of September 2016.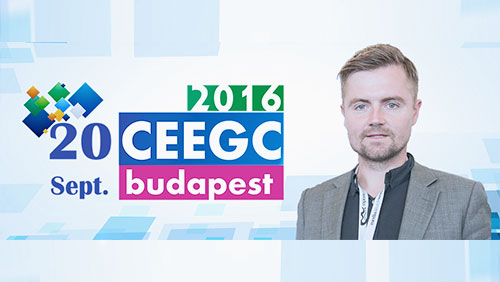 With over 10 years' experience working within Sports Sponsorship and Online Gaming, Stuart Trigwell is an industry professional in both Commercial Sponsorship and Virtual Sports Gaming. President of the University of Sheffield Business Management School in 2004, Stuart graduated from Sheffield with a BA Honours in Business Management before spending several years at the English Football League activating key Title Sponsorship deals and representing The Football League on Sky Sports.
Stuart's current position at Global Bet has seen him create partnerships with a host of platform providers and operators across Europe, Asia and Africa where Virtual Sports continues to establish itself as an integral part of the gaming industry
Be sure to save the date and secure your ticket to the CEEGC 2016 Budapest, which will be held on the 20th of September 2016 at the Hilton WestEnd City Budapest Hotel in order to hear Stuart Trigwell speak about "Virtual Sports, what next? " in the "Hot topics of the online gambling markets in Europe" panel.
The panel will bring together experts such as Alexandre Tomic, Mark McGuinness, Tal Itzhak Ron, Valéry Bollier and will be moderated by Paul Davis.
The conference provides an efficient way of meeting new and prospect clients in the special networking session and sit down lunch.
Special reports and exclusive updates will be given by the top 20 speakers of the industry and the event is limited to 150 delegates to maximize the engagement among the peers.
The tickets can be purchased at the rate of €200 until their availability of 150 delegates has been reached on the following link: https://ceegc.eu/2016/tickets/
Should you have any questions, please don't hesitate to contact us on +40 735 559 234 or by mail on [email protected].
For more details please visit the official website: www.ceegc.eu or book your tickets online www.ceegc.eu/2016/tickets/
WE LOOK FORWARD TO SEEING YOU IN BUDAPEST!