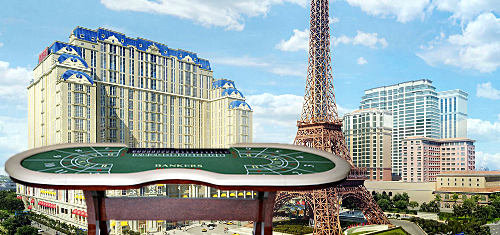 Las Vegas Sands' new Parisian Macao casino will open next week with 410 gaming tables, despite having only received 100 new-to-market tables from Macau regulators.
Speaking to reporters on Thursday, Sands China president Wilfred Wong revealed that the company will transfer 310 underutilized tables from Sands' other Macau properties to ensure a full complement of gambling options when the property opens on September 13.
Sands China was one of the first operators to plant their flag in Macau after SJM Holdings' monopoly came to a close, so it has four other properties from which it can poach tables. Morningstar Investment Management Asia analysts suggested that Sands has a supply of nearly 600 underutilized tables on which it can draw.
The Parisian was formally granted 150 new tables this week but 25 of those won't become available until Jan. 1, 2017, with the final 25 arriving the following year. Wynn Resorts' Wynn Palace, which opened last month, was awarded the same table total in a similarly staggered release. The Parisian was also authorized to feature up to 1,600 new slot machines.
Wong told the Macau Daily Times that he understood the Macau government's decision, given its stated policy of allowing only 3% compound annual growth in the number of new tables. But should the government amend its policy in the future, Wong hopes "consideration will be given" based on the lowball deal they got this time around.
Wong said the Parisian was aimed squarely at a "middle class" audience, making it "a really good addition to the family" of Sands' properties. The Parisian will feature 170 retail shops, but Wong says they will be "mid-priced." For example, "we don't sell Hermés, we don't sell LV, because that is the Four Seasons shops. So we have a segmentation of our customers and that in itself is an attraction."
The Parisian will feature 3k hotel rooms, similar to the Venetian Macao, although Wong says the Venetian's "room size is bigger, as every room is a suite … [the Parisian is] hitting a price point where it is the middle class segment that we want to have."
The Morningstar analysts suggested the smaller room size (and price) could lead visitors to spend more on gaming and non-gaming amenities. However, they also suggested the smaller rooms could make it difficult to attract so-called 'premium mass' customers, aka quasi-VIPs who play with their own cash rather than on junket credit, and are the most profitable customers in terms of gaming revenue.