Texas may soon join the growing number of daily fantasy sports-friendly states, if one state lawmaker has his way.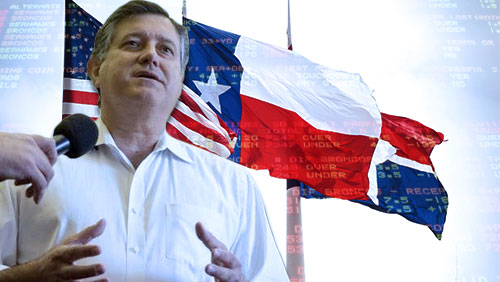 Rep. Richard Pena Raymond, D-Laredo, made a pledge on Thursday—hours before the kickoff of the season's first NFL football game—to file a bill that will clarify the status of fantasy sports leagues in Texas.
In January, state attorney general Ken Paxton chased operators DraftKings and FanDuel out of Texas, saying daily fantasy sports is considered "prohibited gambling" in the state due to its prohibition of betting on events determined either "solely or partially by chance."
Texans have already sent letters to the attorney general arguing the legality of fantasy sports games. Raymond, who is also a fan of fantasy football, told state reporters that fantasy sports leagues are in no way similar to the Roulette Wheel.
"Fantasy football, fantasy sports are a game of skill. They are not a game of chance. This is not the Roulette Wheel," the state representative said, according to The Texas Tribune.
Paxton's opinion, published in January, concluded that fantasy sports leagues "is prohibited gambling in Texas if you bet on the performance of a participant in a sporting event and the house takes a cut."
Raymond, who admitted he disagrees with the attorney general's non-binding opinion, said he plans to file the bill later this year. Raymond's proposal would require paying participants be at least 18 years of age, among other things.
The representative, however, may have a bit of wait since the legislature will not be in session until 2017. The state legislature had one bill early this year that sought to regulate the industry, but that was never seriously considered.
So far, there are eight U.S. states that have passed daily fantasy sports-friendly legislation this year: Colorado, Indiana, Mississippi, Missouri, Tennessee, Virginia, Massachusetts, and just recently, New York.