Thursday, September 1st 2016, Budapest – The organizers are proud to announce the newest confirmed speaker, Paul Reilly, who will be among the keynote speakers of the "Hot topics of the online gambling markets in Europe" panel at the Central and Eastern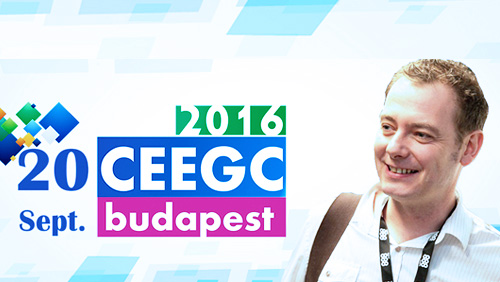 European Gaming Conference(CEEGC 2016) which will take place in Budapest at the Hilton City Budapest on the 20th of September 2016.
The presentation is a must attend for operators, software developers and all online gambling(igaming) oriented companies. Google Search have been training machine learning algorithms since as early as November 2012.  Deep neural networks, modeled loosely on the human brain, represent the new challenge for SEOs. Just how can modern SEOs compete with machine intelligence? Paul Reilly founder and CEO, Media Skunk Works provides a gentle introduction to machine learning before covering actual, "in-production" specifics on how machine learning and natural language processing is being used by today's SEO pioneers to compete with machine intelligence.
Highlights:
• Two A.I. optimisations to safely increase scalability in link building.
• Google's winners and losers classification methods.
• Camouflaging content marketing with natural language processing
• Techniques to dictate the modern SEO strategy: clustering and decision tree algorithms.
• Deep learning and how it may be applied to SEO
PAUL REILLY is founder and CEO of Media Skunk Works A.I. Laboratory, at the University of York.
Over the last two decades Paul has consistently redefined the bleeding edge of SEO, he pioneered forensic SEO and industrialised large-scalelink-building. He's consulted with pretty much every big iGaming operator over nearly two decades. He insists intelligence and competitive advantage remain paramount for success, adapting to each successive new era within SEO. The A.I. Era is no different: "Tackling a deep learning algorithm with human scale thinking is insanity".
Be sure to save the date and secure your ticket to the CEEGC 2016 Budapest, which will be held on the 20th of September 2016 at the Hilton WestEnd City Budapest Hotel in order to hear Paul Reilly speak about "The SEO Arms Race – Artificial Intelligence competing with Artificial Intelligence" in the "Hot topics of the online gambling markets in Europe" panel.
The panel will bring together experts such as Alexandre Tomic, Mark McGuinness, Tal Itzhak Ron, Tom Light, Vahe Baloulian, Valéry Bollier, Ivan Kondilenko and will be moderated by Paul Davis.
The "Hot topics of the online gambling markets in Europe" panel is set to start at 14:00(Budapest local time) right after the complimentary lunch and is announced to be the highlight of the event.
The conference provides an efficient way of meeting new and prospect clients in the special networking session and sit down lunch.
Special reports and exclusive updates will be given by the top 20 speakers of the industry and the event is limited to 150 delegates to maximize the engagement among the peers.
The tickets can be purchased at the rate of €200 until their availability of 150 delegates has been reached on the following link: https://ceegc.eu/2016/tickets/
Should you have any questions, please don't hesitate to contact us on +40 735 559 234 or by mail on [email protected].
For more details please visit the official website: www.ceegc.eu or book your tickets online www.ceegc.eu/2016/tickets/
WE LOOK FORWARD TO SEEING YOU IN BUDAPEST!
Comments