eCommerce Show Philippines
Now its second year, the eCommerce Show Philippines is the region's largest dedicated event to eCommerce, innovation and technology, an industry growing at an exponential rate in the Philippines.
This event offers two days of conference sessions addressing key issues in the industry and an expo hall featuring over fifty exhibitors.  Delegates can expect to meet C-level execs, heads of eCommerce, strategy, marketing, loyalty and IT from retailers, manufacturers, eCommerce sites and start-ups from across the Philippines.
What: eCommerce Show Philippines
When: September 6-7, 2016
Where: SMX Convention Center
Register: Online
eSports Conference
The second annual eSports Conference has moved to Los Angeles and has been designed to educate anyone interested in business opportunities within eSports.  Sessions cater to professionals of all levels, those who are brand new to the sector and those who are already versed in the business.
This three-day event features a pre-conference "how to stay legally compliant when doing business in eSports" workshop on day one, followed by two full days of sessions and networking opportunities.
What: eSports Conference
When: September 6-8, 2016
Where: Westin Bonaventure Hotel, Los Angeles
Register: Online
World Regulatory Briefing (WrB) Responsible Gambling Innovation
This event organized by Clarion will bring together operators, regulators and associations to share best practices and discuss responsible gambling strategy across Europe.
Topics of discussion will include validity of current RG methods, segmentation and data analysation, integration of CSR, CRM and RG and the future of regulation across Europe.
What: WrB Responsible Gambling Innovation
When: September 8, 2016
Where: OXO Tower, London
Register: Online
Manila Sports Betting & Gaming Seminar
Asia Gambling Brief (AGB) has organized an invite-only lunch and afternoon of panel sessions for gaming operators focusing on the Asian gambling market.  Topics of discussion for the afternoon include customer acquisition strategies, junket and agent dealings, mobile strategy and more.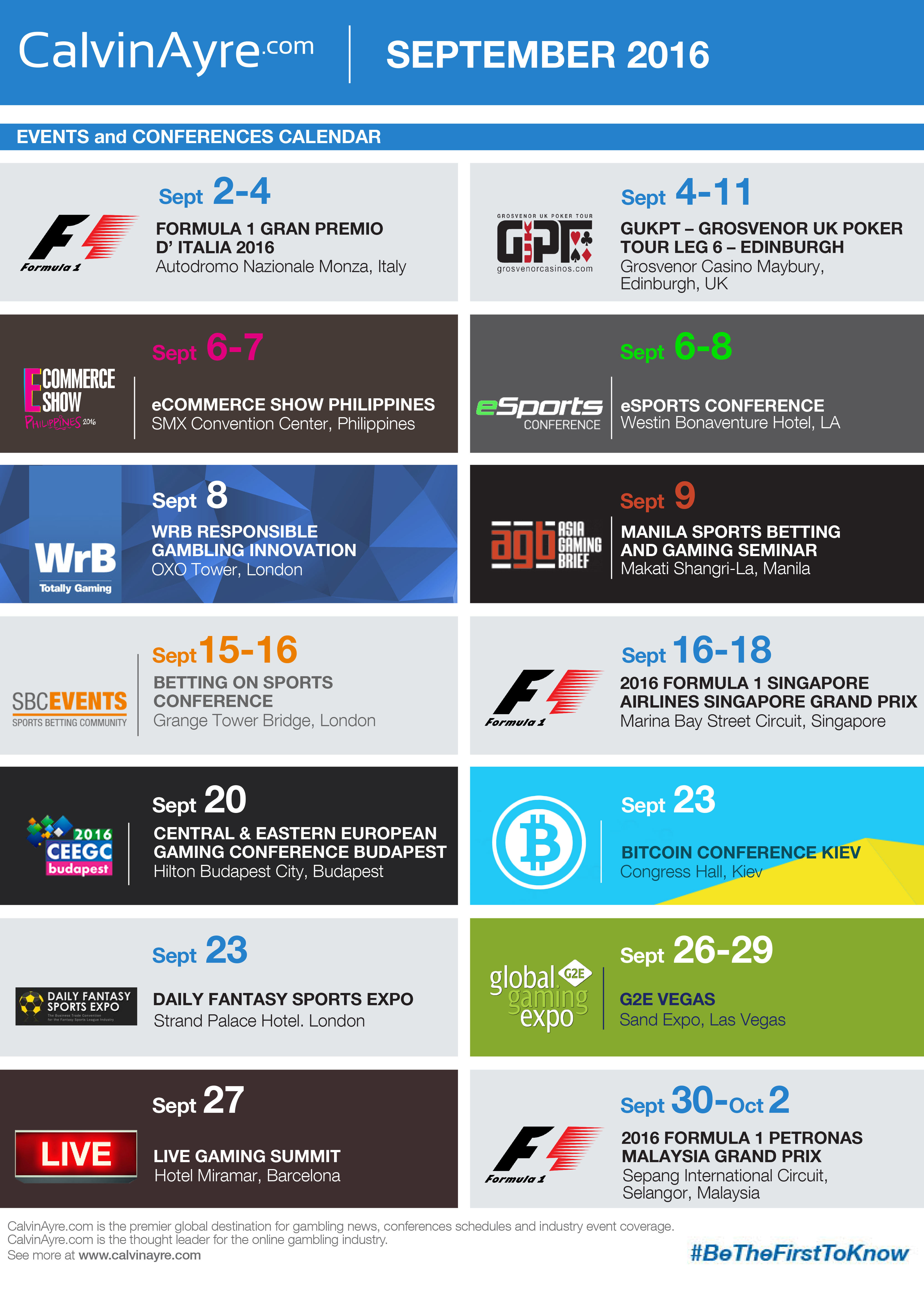 Directly following the conclusion of the sessions, cocktails will be served at the Shangri-La's Sage bar from 6-9pm, an event open to everyone with non-sponsoring suppliers to a pay a small cover at the door.
What: Manila Sports Betting & Gaming Seminar
When: September 9, 2016
Where: Makati Shangri-La, Manila
Register: Invitation Only, email JoLyn Crisafi at [email protected]
Betting on Sports Conference
Sports Betting Community (SBC) have expanded their conference content focus from football to sports betting in general.  The inaugural Betting on Sports Conference will serve as the largest conference of the year dedicated to the sports betting industry, with six events taking place over the course of two days.
Delegates will enjoy two streams of topics covered each day, a bustling expo floor, an official networking party, a C-Level executive event, an affiliate sports betting event and the BiG Foundation Sports Charity Gala Dinner at the conclusion of the conference.
What: Betting on Sports Conference
When: September 15 & 16, 2016
Where: Grange Tower Bridge, London
Register: Online
Central and Eastern European Gaming Conference (CEEGC) Budapest
The first edition of CEEGC has been designed to address issues impacting the Northern, Central and Eastern European gambling markets and there will be a special focused dedicated to the emerging markets of the Balkan's region. The event has been limited to 150 delegates in order to encourage maximum levels of participation, learning and networking.
The CEEGAwards will take place towards the end of the day prior to networking drinks, wit seven categories recognizing the best operators, suppliers and media in the online gaming community.
What: CEEGC Budapest
When: September 20, 2016
Where: Hilton Budapest City, Budapest
Register: Online
Bitcoin Conference Kiev
Despite its name, the Bitcoin Conference Kiev will focus on crypto-currency in general and blockchain technology. Kiev is a hotbed for the development of blockchain tech and for the third year in a row, this event will bring together leaders of crypto platforms and blockchain-based services, reps from Ukrainian banks, entrepreneurs, investors and more.
Crypto enthusiasts of all levels are welcome, everyone from experts to developers to those who know very little about this disruptive technology.
What: Bitcoin Conference Kiev
When: September 23, 2016
Where: Congress Hall, Kiev
Register: Online
Global Gaming Expo (G2E) Las Vegas
G2E Vegas is the biggest expo of the year dedicated to the global gambling market, with a massive presence from American-based gambling companies. This event offers a "360-degree view" of the industry, covering slots to table games, to online, to food, beverage and hospitality.
Sessions covering all aspects of the industry take place Monday through Thursday, September 26-29 and the expo hall will be open Tuesday through Thursday, September 27-29.  Huge names such as David Stern from the NBA will be speaking during G2E and delegates can expect various celebrity appearances all over the expo floor.
What: G2E Vegas
When: September 26-29, 2016
Where: Sands Expo, Las Vegas
Register: Online
Live Gaming Summit
GamingCET and iGaming Business have partnered up to produce the inaugural Live Gaming Summit in Barcelona.  Live dealer software and offerings have moved into the main stream due to technological advancements, with Live Dealer now making up over 25% of the European online casino market.
Live Gaming Summit 2016 will educate delegates on live streaming from land based properties and studios, technological and regulatory developments, opportunities in Asia, the US and beyond, the future of live casino and more.
What: Live Gaming Summit
When: September 27, 2016
Where: Hotel Miramar, Barcelona
Register: Online
Comments