All things point to this division being a two horse race between defending champion Arizona and perennial power Seattle. We'll also be witnessing a NFL return to Los Angeles, and that's a result of the Rams franchise relocating from St. Louis. San Francisco made a significant splash during the offseason by hiring the controversial Chip Kelly as its new head coach.
NFC West Futures Odds
• Seattle -110
• Arizona +140
• Los Angles +750
• San Francisco +2000
Note: All NFL betting odds in this article are courtesy of BoDog.
Defending NFC West Champs
The Arizona Cardinals are coming off a terrific 2015-2016 campaign that saw them go 13-3, win a division title, and advance to the NFC Championship Game. The pieces are in place to make a run at their second consecutive NFC crown, and an opportunity for a franchise first world championship. There was very little roster turnover from a season ago, and the addition of former New England Patriots linebacker will bolster an already very good defensive unit.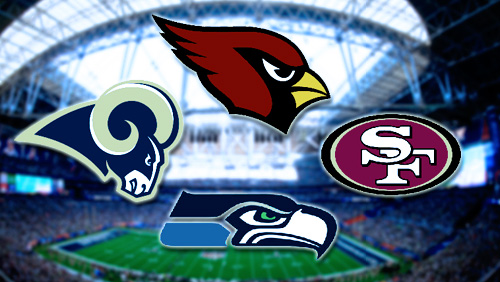 Bruce Arians has done a terrific job during his first three years as head coach in Arizona. The Cardinals have won 10 games or more on each occasion, and made two postseason appearances. They failed to make the playoffs in Arians first year despite a stellar 10-6 record.
Arizona's offense is deep at the skilled positions, and their offensive line will be rock solid. It's just a matter of keeping veteran quarterback Carson Palmer healthy, similar to what he was last season. Palmer started all 18 games a year ago, and led Arizona to a NFL #1 ranking in total offense (408.3 PPG), and they also were the league's second highest scoring team (30.6 PPG).
The Cardinals defense perfectly complimented to their dynamic offense. The stop unit finished 5th in yards allowed (321.7 YPG), and forced 33 turnovers by the opposition. If they need to improve in one specific area, it would be their pass rush. Arizona sacked opposing quarterbacks 36 times last season, and that was 20th best in the NFL. The addition of Chandler Jones automatically enhances that need.
If Arizona is in need of extra motivation, all they have to do is look at the NFC West futures odds at BoDog and Odds Shark. Odds-makers have unanimously made Seattle a favorite in respect to winning the NFC West. The Cardinals and Seahawks split their two regular season meetings last year, with the visiting team won on each occasion.
Barring numerous unforeseen injuries, Arizona should fare no worse than a NFC wild card team. The Cardinals went a highly impressive 7-1 on the road a season ago, and were a +9 in turnovers (4th-NFL). Four of their first five games this year will be versus teams that didn't own a winning record last season. A lone exception will be in their season opener at home against New England, and it will mark the first of a four game suspension for Patriots star quarterback Tom Brady.
Make or Break for Jeff Fisher
Jeff Fisher begins his fifth season as head coach of the Rams. All four preceding years resulted in losing seasons, and a combined record of 27-36-1. Los Angeles traded up to mortgage their future on #1 overall draft pick Jared Goff. Furthermore, coinciding with their move to Los Angeles, there's additional pressure to win, and be a serious playoff contender. I can't imagine Fisher will be able to retain his job if the Rams don't win a minimum of 9 games.
Despite bringing in a highly touted quarterback like Jared Goff, he won't be forced to play immediately, and that should exponentially aid in his growth. That's not to say at some point, he won't be inserted in as the starter. Fisher has opted to start the season with Case Keenum behind center, and he's more than capable stop gap until Goff is deemed ready.
Speaking of the offense, Los Angeles certainly needs to improve in this area if they indeed have stern playoff aspirations. Last season, they were the only NFL team that averaged less than 300 yards of total offense per game (297.6 YPG), and were 29th in scoring at 17.5 points per contest. On some positive notes, the Rams offensive line allowed their quarterbacks to get sacked a NFL low 18 times, and paved the way for the 7th best rushing attack (122.6 YPG). Unfortunately, they possessed the worst passing game in football (175.3 PPG). Assessing those numbers, it doesn't take a rocket scientist to conclude, Los Angeles is in dire need of infinitely better play at quarterback.
Make no mistake, Los Angeles will have a playoff caliber defense, and if their offense can sustain more drives this year, it will be even more apparent how good they are on that side of the ball. The Rams defense was on the field an average of 33:12 per game last year. Only the 49ers and Eagles stop units had less rest. The Rams were 11th in sacks (41.0). Additionally, they were the only team with a losing record, finishing top 10 in 3rd down defense a season ago, limiting opponents to a paltry 34.7% conversion rate.
The Rams schedule includes 7 of its 10 non-division games, coming against opponents failing to have a winning record last year. Remember, the Rams went a combined 3-1 against Seattle (10-6) and Arizona (11-5) last year. It's not like they'll lack confidence against two of the most highly touted NFC teams. There should be no excuse for Jeff Fisher not to have his team in playoff contention once December arrives.
49ers Digging for Gold
It what appeared to to be a move made out of desperation rather than logic, the 49ers franchise future now lies in the hands of unorthodox head coach Chip Kelly. The divisive Kelly wore out his welcome in Philadelphia after just three years, despite a playoff appearance, and a pair of 10 win seasons. Nevertheless, Kelly's coaching tactics and leadership abilities have been openly questioned, and specifically so by current and past Eagles players. The provocative former Oregon Ducks head coach hasn't seemed to figure out how to handle NFL players, compared to those on a collegiate level. There's already been whispers of a divided locker room in San Francisco, and at the time of this writing, we're still two weeks away from their season opener.
One thing you can be rest assured, assuming Kelly will turn the 49ers into an immediate contender would be an extremely unfair expectation, and borders on delusional thinking. After all, this is a team that went 5-11 a season ago, and ranked at or near the bottom of statistical team categories on both sides of the ball.
One of Kelly's first major decisions will be who to start at quarterback. At the moment, Blaine Gabbert seems to have a slight edge over Colin Kaepernick. Although, Kelly remains noncommittal at this juncture. Whoever earns the job, they'll be taking over an offense that ranked dead last a season ago in scoring, averaging a pathetic 14.9 points per game.
I look for San Francisco to be vastly improved on defense. Then again, they have nowhere to go but up after finishing last season ranked 29th in both total yards (387.4 YPG), and points allowed (28.0 PPG). If that improvement is going to indeed transpire, they must do a much better job of forcing turnovers. Saying they were horrible last year pertaining to that category would be a vast understatement. That's further evidenced by collecting only 9 interceptions, and recovering a miniscule 3 fumbles all of last season.
I do believe San Francisco will be a more entertaining team to watch under Kelly, and especially so offensively. Nonetheless, they'll be hard pressed to even top their 5 wins from a season ago, and appears destined for a second consecutive NFC West last place finish.
Primed for World Championship Run
2016 marked the first time in three years that Seattle came up short of a Super Bowl appearance. Nevertheless, they were a playoff team for the fourth consecutive year, and advanced to the NFC Divisional Round before being eliminated by Carolina. Pete Carroll enters his 7th year as head coach of Seattle, and his Seahawks have missed the playoffs just once in six tries. Under Carroll, Seattle won the 2013 Super Bowl by a convincing 43-8 margin over Denver. Once again, there's enormously high expectations in "The Great Northwest", and anything short of a franchise fourth Super Bowl appearance will be considered a huge disappointment.
All-Pro quarterback Russell Wilson will have a plethora of talented wide receivers at his disposal, and if you include tight end Jimmy Graham, Seattle has a potentially lethal passing attack. The big question mark on offense pertains to their offensive line. Seattle allowed 46 sacks a season ago, and that was the 5th most in football. Considering Russell Wilson is one of, if not the most, mobile and elusive quarterbacks in the NFL, its offensive line need to be much better in pass protection. It must be noted, a majority of those sacks occurred during the season's first half. There was a noticeable improvement protecting Wilson as the year wore on. Seattle will also have to replace retired running back Marshawn Lynch. Then again, Lynch missed a good portion of last year while nursing an injury.
There's unequivocally no doubt in my mind, Seattle will be able to maintain a top five defense. The strength of that intimidating unit is in the back seven. The weakness is clearly at both defensive tackles, and even then it's really nitpicking. A secondary which has been labeled "The Legion of Doom" will be arguably the best in football. Last season, Seattle's defense allowed the fewest points (17.3 PPG) in the NFL, and was second in yards allowed (291.8 YPG). I would be extremely surprised to see any dramatic change in that regard.
The Seahawks open against three teams (Miami, Los Angeles, San Francisco) that all owned losing records last year. Albeit, one of those contests comes against the Rams, and they swept both games versus Seattle a season ago. Nonetheless, since 9/16/2012, Seattle has gone 24-8 when playing with revenge, and that includes 7-1 against NFC West Division opponents. The Seahawks will be cognizant of their 2-4 start to last season, and must avoid a repeat if they aim to return as division champions.
Uncharacteristically, Seattle lost three games at home during the 2015-2016 regular season. Prior to that, Seattle was a sensational 26-2 (.929) at Century Link Field throughout its preceding three seasons, and a money making 20-8 (71.4%) against the spread. Look for Seattle to reestablish their home field dominance during the upcoming 2016-2017 campaign.
Seattle is currently at world championship futures odds of 8-1 to win. I'm not a proponent of making a wager this early, and especially so with single digit odds attached. I'm personally waiting for Seattle to sustain its first loss, and check the tote board at that time in hopes of garnering a better number.