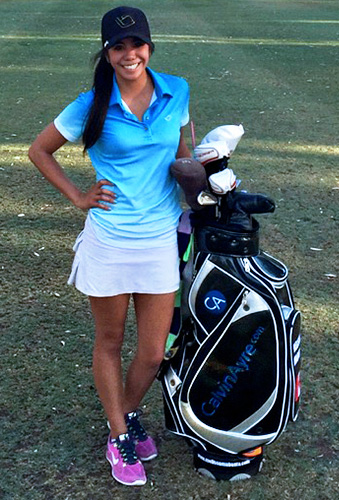 In our first foray into sports sponsorship, CalvinAyre.com has inked an endorsement deal with aspiring professional golfer Melissa Mabanta.
The agreement includes the sponsorship of Mabanta's golf bag. The CalvinAyre.com logo will be displayed prominently on her golf bag as she plays in the LPGA's qualifying tournaments beginning August 26, 2016 at Mission Hills Country Club in Rancho Mirage California.
Born in Vancouver British Columbia, Melissa Mabanta began playing golf at the age of 8 and her love and dedication to the game earned her a scholarship to the University of Nevada, Las Vegas.  She competed for the Rebels for three seasons.
"I am so grateful for Calvin and his team helping me out this season. Right now, I am currently in Arizona getting ready for LPGA Q-School on August 22-28. The tournament will be in Palm Desert, California and at that time of the year, the weather will be brutally hot and humid," Mabanta said.
Q-School is a series of tournaments where aspiring professional golfers play in hopes to gain their tour card. The Filipino-Canadian is already busy preparing not just the physical, but also the mental areas of her game.
"I start off my mornings at 6 a.m. with a golf specific workout with my trainer. With him, I work on strength and mobility to get the best movement in my swing. On the golf course, I have been focusing on being very specific with my targets and trusting my swing. To achieve that trust, I have to work hard on my mental game," Mabanta said. "Currently I am reading 'Mindset: The New Psychology of Success.' It has been giving me advice on staying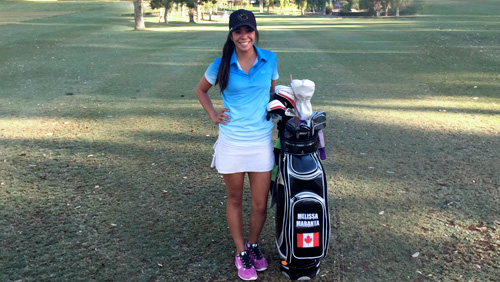 in the present and learning how to fulfill my potential. I am excited and confident that my hard work will pay off at the end of the month."
"I've always been a proud supporter of women's athletics. This was a nice opportunity to help a great person. I've known Melissa since she was young as I've been friends with her father for 15 years," Calvin Ayre said.
Interesting to note, Melissa's uncle is retired Philippine General Jolly Mabanta and her sister, Tina, was also a member of the UNVL Rebels golf team.