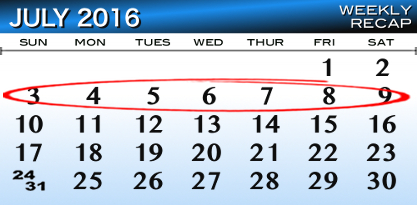 THE AMERICAS
Delaware told daily fantasy sports operators to halt real-money contests; A pair of eSports stars were exposed as owning the skin betting site they were publicly promoting prompting them to do some half-assed damage control; Vulcun shut down its fantasy eSports site; South Korea's Netmarble Games announced its intention to bid for Caesars Entertainment's Playtika social casino business; Sands Bethlehem launched the nation's largest electronic table game setup; The Lotter pushed the Oregon Lottery to expand international online sales; porn baron Larry Flynt bought California's Normandie Casino; Pennsylvania casinos' slots revenue rose for the second straight year and Lee Davy recapped the week's action at the World Series of Poker 2016.
EUROPE and AFRICA
The Netherlands' lower house of parliament finally passed their Remote Gaming Bill; Betfred reported a £76m loss thanks to new taxes and lucky punters; Gibraltar's gaming minister downplayed the impact of the Brexit vote on the Rock's online industry; Portugal got its second licensed online sports betting site; PokerStars withdrew from Slovenia; a Cyprus resort staged a mock terror attack to promote its casino night; poker icon Tony G volunteered to replace Nigel Farage as UKIP leader; 1710 Gaming consultant Christina Thakor-Rankin explained why Africa is the next big iGaming market and Rebecca Liggero recapped the goings-on at Days One, Two and Three of the World Gaming Executive Summit in Barcelona.
ASIA and AUSTRALIA
Macau junket operator Suncity Group confirmed it would pop the VIP cherry of Melco Crown's Studio City casino; Australia's Northern Territory regulator suggested online in-play betting wasn't quite dead yet; South Korea accused North Korea of earning $864m per year from illegal online gambling; the Philippine president's vow to stop online gambling caused PhilWeb Corp shares to plunge and put a target on Asian Logic's retail betting business; New South Wales banned greyhound racing; the Philippines House of Representatives and Senate both introduced new bills to impose new anti-money laundering restrictions on casinos; the Indian state of Sikkim banned locals from casinos; Hong Kong's Euro 2016 busts quadrupled from the 2012 event; Australia's top political journalist messed with Sportsbet's prop betting markets; VIP turnover at Saipan's only casino fell by more than one third; Global Market Advisors' Shawn McCamley poured cold water on hopes that Vietnam will implement its long awaited gambling law revisions this year; Gameplan Consultants' Sudhir Kale said Macau casinos are failing to provide the experience mass market gamblers are seeking and CLSA's Aaron Fischer explained why he was still bullish on Macau despite all its challenges.
Comments