They call it keeping up with the changing times.
Bitcoin is about to go legal in China. According to reports, the Chinese government is planning on having a set of laws that will offer digital currencies such as the popular bitcoin a "legal status" in the country.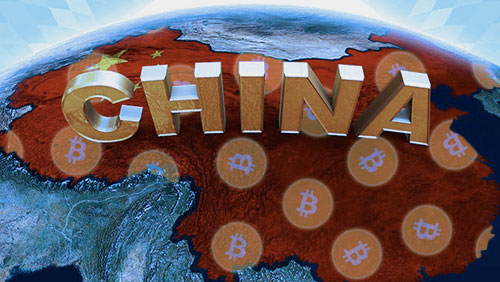 The new draft law, released as part of the People's Republic of China General Principles of Civil Law, aims to consider cryptocurrencies as properties "almost on par with physical and financial assets," meaning they will be under the scope of the civil rights related to property in general.
Digital currencies don't have a legal status in China, although experts have been attributing the recent surge in the price of bitcoin to the hearty demand from the Chinese market due to fears of Chinese yuan devaluation. In May, the digital currency to hit $500—a value not seen since September 2014—in two of China's largest bitcoin exchanges, OKCoin and Huobi, and analysts believe trades involving the yuan account for about 95 percent of the current bitcoin trading volume this year.
China's draft law, even if it is implemented into the statute, doesn't completely cover the digital currency assets, unlike in Japan where virtual currencies are now recognized as "asset-like values" that can be used to pay for goods and services as well as an alternative for legal tender through purchases and trades.
Still, the draft law is a good start for the Asian country—a move that shows Chinese bureaucrats are already recognizing bitcoin as an alternative currency.
Indian merchants now accepting bitcoin payments
Bitcoin is no longer on the fringes of India's financial sector.
Merchants in India will soon start accepting bitcoin payments and receive digital currency-related payouts in the Indian rupee (INR), several news outlets have reported.
Delhi-based bitcoin trading platform Coinsecure is the first company to use U.S. bitcoin payment processor BitPay's platform to offer cryptocurrency payment processing in the country, as well as in south Asia.
Coinsecure CEO Mohit Kalra told CoinTelegraph: "For some time now, Indian merchants were able to accept payments in bitcoin but just not receive a payout in INR. Bitcoin is no longer just an 'investment' in India but an opportunity to buy goods from bitcoin accepting merchants."
India is the latest country to have expressed interest in bitcoin and the blockchain technology. The Reserve Bank of India is planning to look into the blockchain as an alternative way to reduce the use of paper currency.
Current bitcoin price and transaction volume
On Thursday, the price of the digital currency rose slightly to $636.22, with close to 15.72 million bitcoins in circulation.