London, 25 June 2016
COLOSSUS BETS, home of the world's biggest football and sports jackpots, today announced that its pools products, branded as 'Cash Out Pools', have gone live on both web and mobile with The Football Pools.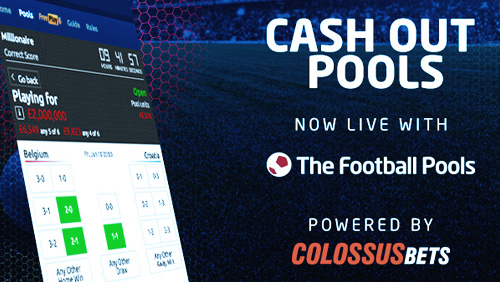 Bernard Marantelli, founder and CEO of Colossus Bets said: "The Football Pools is an iconic brand with a long pedigree in offering life-changing jackpot prizes on football and it's a significant milestone for us that they have chosen to offer our pools to their client base. Enabling players to bank profits on multi-leg bets through partial cash-out is a key USP of our pools and we look forward to players from The Football Pools taking advantage of the feature."
Conleth Byrne, Managing Director of The Football Pools said: "Creating winners has always been at the core of The Football Pools. We are always looking at innovative ways to deliver more choice and more ways to win. Colossus Bets provides a suite of complementary pools that I am sure will prove popular with our 200,000 weekly active customers. We are delighted to offer Cash Out Pools which will deliver great value as well as guaranteed jackpots up to £2m.
About Colossus Bets
Colossus Bets is a multi-award-winning pool betting operator, offering the world's biggest sports jackpot bets including the £2,000,000 Millionaire. The company's B2C offering launched in 2013 and since then Colossus Bets has signed almost thirty B2B agreements for the distribution of its pools, with twenty live partners including Betclic, Betfair, Betdaq, Ladbrokes Australia, Matchbook, Bet Construct and ONEworks.
Colossus Bets has pioneered partial cash-out and has been granted a series of patents in relation to the functionality across all forms of betting and gaming. This technology has been used to build the world's first cash-out slot game, the 'Colossus Fracpot', which went live on Sky Vegas in September 2015 and is the first of a number of 'Fracpot' slots being rolled out to a series of operators in 2016.
For further information, please contact:
Bernard Marantelli (CEO and Founder)
[email protected] +44 20 3393 3662
About The Football Pools
The Football Pools business is the world's oldest football gaming company, founded in 1923, outside the world famous Old Trafford football stadium.
Over the past nine decades, this iconic British brand has paid out £3.2 billion in prize money to over 61 million winning customers. The Football Pools is proud to be the UK's favourite football gaming brand with over 200,000 customers every week across a number of channels including postal, telephone and online.
For more information on The Football Pools please visit www.footballpools.com or call 0800 500 000.
For further information, please contact:
Michelle Robbins (Head of Marketing Communications, Brand and PR)
[email protected] +44 151 288 3219