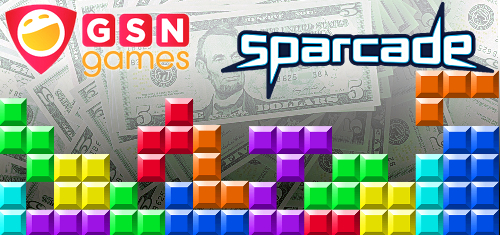 Social and mobile gamers GSN Games are betting that (a) players want to play classic arcade games against other players for real money, and (b) that the US government will let them.
This week saw the Sony-owned GSN invite players to sign up for the open beta test of Sparcade, a new app that will allow players to compete head-to-head for tokens or cold hard cash via some of the world's most beloved game titles, including Pac-Man, Tetris and Scrabble, as well as GSN's own Solitaire TriPeaks.
GSN senior VP Greg Canessa, who in a previous life at Microsoft was responsible for creating Xbox Live Arcade, announced Sparcade's arrival via a blog post. Sparcade will debut on iOS with an Android version slated to follow and a full consumer version expected to launch this fall.
Canessa said GSN had developed "high-quality, skill-adapted versions" of the popular games that add "a new level of competition" as well as social elements while still "preserving the soul" of the originals. GSN is negotiating with other developers to add new iconic games to the mix.
Sparcade players will be matched by skill level to discourage bottom feeding. Each player takes a three- or five-minute turn playing the game separately – either simultaneously or at times of their individual convenience – after which the winner is declared.
Canessa says conversations with players taught him that "the option of putting a little money on the line makes familiar games more interesting and fun," while feeding friendly competition and keeping the game fresh. Canessa believes Sparcade represents "a completely new business model and monetization method for mobile."
Canessa told GamesIndustryBiz that most Sparcade tournaments would start out with entry fees of $1, with the winner earning $2, from which GSN collects a fee. To start, the tournaments will max out at $5 and while Canessa said the possibility existed for Sparcade to support "much higher stakes," the focus was on players being able to "have fun and not stress about it."
As for legal concerns, GSN is banking on the belief that some 40 states allow heads-up wagering between friends. GSN insists that Sparcade's contests are bona fide games of skill, but it won't be the first time someone has built an empire on that foundation and lived to regret it.
Comments