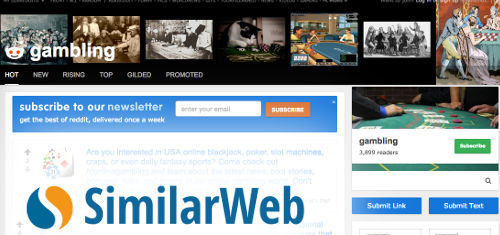 Online gambling sites need to boost their social media presence, offer betting odds that follow the news cycle and cut down on the black-hat SEO shenanigans, according to a new report.
UK-based information technology firm SimilarWeb has followed up its recent Sports Betting UK White Paper with an analysis of global online gambling traffic. Breaking the Taboo: How to Become a Leader in the Online Gambling Industry (viewable here) was compiled in conjunction with SEO analysts Ahrefs and digital marketing agency Bizup.
Gambling websites account for 0.44% of global online traffic, which SimilarWeb dubs "an impressive number," particularly in light of the many countries across the globe that erect digital roadblocks to prevent their citizens from accessing such sites.
In terms of geographic distribution of traffic, the UK's mature online gambling industry claimed top spot with 9.1%, while Germany ranked third with just under 6%, followed by Poland (4.9%) and Spain (4.2%).
Perhaps tellingly, the US market ranked second with 8.4%, despite online gambling being legal in only three states and US law enforcement's demonstrated penchant for targeting internationally licensed operators that continue to serve the US market.
WHERE DOES THE TRAFFIC COME FROM?
The top sources of online gambling traffic are direct (37.2%), referrals (23.7%), display ads (21.5%) and search (17.1%), while social accounted for a mere 1.5%. SimilarWeb says the findings underscore the gambling industry's reliance on affiliate partnerships.
Only 10% of gambling sites were deemed to have "any relevant presence" on social media channels. Facebook accounted for more than half (53.5%) of gambling sites' social media sources, with YouTube a distant second at 22.5% and European social network VKontakte even further back (8.8%) but ahead of Twitter (7.4%).
The bulk of social signals derived from Facebook are shares, not comments or likes, a sign that promotions have limited ability to spark "valuable social engagement," in part because such posts can often violate Facebook's terms of service.
Reddit accounted for just 2.2% of gambling sites' social media traffic sources, but SimilarWeb calls it a "very promising social media marketing channel for gambling," primarily because of its lack of censors. The 'Gambling' subreddit ranks among the site's top-10k at #8,154 and has shown "surprisingly stable growth" in its number of users since launching in 2008.
THE SORRY STATE OF BACKLINKS
SimilarWeb spotlighted an area of concern for gambling sites in that more than half of the industry's backlinks "do not bring any referral traffic," which could give Google a reason to flag a site for a manual review.
Less than 12% of gambling industry backlinks came from domains with an above average domain rating. SimilarWeb noted that this problem could be skewed by the large amount of quality links among very big betting brands, meaning websites at the bottom of this ranking "must be absolutely stuffed with unnatural links."
However, SimilarWeb says it uncovered several cases in which leading online gambling sites had purchased expired domains for the purpose of redirecting links on popular media outlet Examiner.com back to their own sites, a tactic that could also earn Google's ire.
GETTING MAINSTREAM MEDIA EXPOSURE
Examiner.com ranked highest on the chart of mainstream news sites that publish gambling industry articles, followed by USAToday.com, BleacherReport.com, HuffingtonPost.com and TheGuardian.com.
SimilarWeb notes that "only large, well-known brands" typically get exposure from major news sites. Around 37% of gambling domains have at least one link from a major news site, but only 24% have more than one such link and only 6% have 10 or more links. SimilarWeb believes this is partly due to the gambling sites' weak social media presence.
If you want to get on a major news site, SimilarWeb says odds and betting stats are the way to go. Mainstream journalists mention gambling sites most often in the context of betting on current events, leading SimilarWeb to suggest betting sites "could get stellar results by simply piggybacking on the news cycle." First prize for the site that offers a prop on how many of Donald Trump's penises it would take to cover a Euro 2016 football pitch.
Comments