Lee Davy catches up with Steve Miller, the inventor of ShareMyPair, to find out what he has learned about his product over the past two years.

Two years ago, Steve Miller, created an innovative way for poker players to share their bad beat stories via a hand replayer app called ShareMyPair.
The app was quickly picked up by some serious poker heavyweights including the 14-time World Series of Poker (WSOP) bracelet winner, Phil Helmuth.
It didn't take long for Miller to realise he had a hit. What started out as a cool way to share bad beat stories quickly become a learning tool. I caught up with him to see how his product is progressing and this is what he had to say.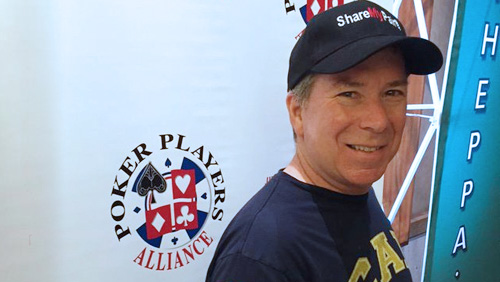 Are you able to quantify how significant Phil Hellmuth's influence has been on the growth of ShareMyPair?
"Phil has been of immense value to the ShareMyPair brand, and we'd like to think that we add some value to his brand, too. Phil enjoys using the app to share exploits from his $25/$50 neighbourhood game as well as from tournaments he plays throughout the world.
"ShareMyPair relies 100% on viral sharing of our hand animations as our Team pros – as well as more than 25,000 members of our user community – post hands and share to Twitter and Facebook."
Who else has joined the team in the past two years and how have they helped your growth?
"I am pleased to say that 10-poker pros from around the world are now part of Team ShareMyPair. In addition to Phil Hellmuth, former WSOP Main Event Champion Greg Raymer is on our team, along with notable pros Jonathan Little, Faraz Jaka, Bernard Lee, Scott Davies, and Jeff Gross.
"Our global reach expanded with Italian pro-Luca Moschitta and Russian pro-Anatoly Filatov joining the Team. Just recently, we brought on an up-and-coming pro from Canada, Vanessa Kade, who also serves as our Lead Analyst, responsible for engaging with members of our community and writing "tell it like it is" hand analyses.
"Another interesting tidbit: ShareMyPair is well-represented in the new Global Poker League (GPL) as GPL Team Managers Faraz Jaka and Anatoly Filatov are both Team ShareMyPair pros, and Jonathan Little and Jeff Gross, two other Team ShareMyPair pros, were drafted by the Las Vegas and Berlin franchises, respectively."
What feedback have you received from players in the past two years and how has the app changed as a result?
"Great question, here's some feedback we've received from our user community:
• Make hand entry faster, and we did! In the most recent iOS and Android app updates, hand entry is 35% quicker than the previous version.
• Add a Straddle option. Done!
• Enable users more flexibility in managing notifications and a range of other app options. Done!
• Allow users to create and enter new ShareMyPair hands on their desktop/laptop computers. This great new feature will be available within the next 4-6 weeks!
• Modernize the app. We've focused on UI and UX in the new app updates – easier navigation, better graphics, and faster response.
"We'll never be done improving ShareMyPair. Continuous improvement and user happiness are our core business objectives."
How does the growth of Twitch, YouTubeGaming, and other live streaming sites affect the growth of your product?
"Twitch and other streaming sites have stimulated the growth and brand awareness for ShareMyPair. We've seen pro players, recreational players and poker bloggers incorporate ShareMyPair into their streaming session as a tool for hand analysis. After the WSOP, look for Phil Hellmuth to host a series of Twitch sessions where SMP users can submit one of their hands to Phil, and Phil will critique and analyze their play. That should be a lot of fun!"
What are your goals for the product moving forward?
"Keep making the product better. Keep expanding our social reach. Facilitate more and better engagement between members of the ShareMyPair community. Continue to globalize the product by adding Team pros as brand ambassadors in their native countries."
How have you managed to raise funds over the past few years?
"Raising money for a startup business is not as easy as it seems. For every SnapChat, 10,000 other companies have to raise money the old fashioned way – by networking, hard work, and financial bootstrapping.
"Fortunately, we have a core group of early investors who have supported us from the start, with the majority of startup funds coming from my business partner, Rich Sondheimer and myself. We continue to seek investment funds to accelerate our growth. With recent changes in US law that make it easier for small investors to get involved in startup ventures, we hope to raise another round to accelerate our product development and business development efforts."
Talk about your marketing strategy?
"Our marketing strategy relies on viral growth and near-zero cost for user acquisition. We do this by partnering with some of the world's best know pro players, and collaborating with other great poker content providers and operators. For example, we will be partnering with an exciting new poker startup venture, YouStake, during the 2016 WSOP. Look for the YouStake logo to appear on the ShareMyPair virtual tabletop starting June 1 and lasting until the final table of the Main Event in mid-July."
How have you monetized the product?

"To date, our goal has been to optimize the ShareMyPair product and increase the social virality of the app. Monetization of the app will come – soon."
What plans do you have for further monetization?

"Our business model is lead generation and affiliate rev-share. We become successful by first building strong relationships with our growing user community, then offering them products and services that they want to consume – real money play, poker training, travel and entertainment, etc.
"You might be aware that I have been California State Director of the Poker Players Alliance since 2008 and continue to serve in that role. Like many poker entrepreneurs, we had hoped that real money licensed and regulated real money play would have returned to the US by now. But unlike most poker entrepreneurs, I've been on the frontline trying to make this happen, having testified on behalf of poker players in California at State Assembly hearings many times, and leading the effort to engage with all poker players in the State.
"Certainly, the slow progress to date has impacted our plans for monetization. But it seems like we're getting closer to regulated and licensed play in California. When that happens, other states will likely follow on. Our monetization plan is proven, we're just a little bit ahead of the curve!"
How can other businesses use this app?
"A couple of different ways:
• We now offer third-party sites a fully embeddable ShareMyPair replayer so users aren't forced to leave the site to view a hand replay.
• We co-brand the replayer with partner logos on the virtual felt in exchange for marketing support and continuous promotion to our partners' audiences
• We accept rev-share deals with related businesses whose banner ads appear as a post-roll following ShareMyPair hand animations. To date, ShareMyPair hand animations have been viewed approximately 2.5 million times."