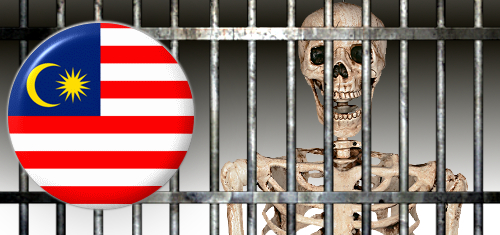 Malaysian authorities have come up with a plan to detain suspected illegal gambling operators for up to two years without trial.
Malaysia has been mulling harsher punishments to deal with illegal gambling operators, particularly online gambling operators, as the country's gambling laws predate the internet. The government is also concerned about illegal 4D lottery operators robbing the state of badly needed tax revenue.
This week, federal police revealed plans to prevent the game of legal whack-a-mole in which arrested runners of illegal 4D operators have their small fines quickly paid by their ring's organizers, putting the runners back onto the street where they quickly resume their illegal activity.
Under Malaysia's Prevention of Crime Act (POCA), suspected criminals can be held for up to 60 days without trial. However, if the Home Minister has the discretion to extend this detention by up to two years.
SAC Datuk Roslee Chik, head of the federal police's anti-vice, gambling and secret societies division, told The Sun Daily that henceforth, all illegal betting operators with previous criminal records could be subject to this two-year detention if they find themselves once again under arrest for suspected gambling activity.
The officer said the intention was to put illegal operators "out of business for good" and that the new crackdown meant there would be "no escape" for repeat offenders.
BAD DAD'S TOUGH LOVE APPROACH TO GAMBLING SON
Speaking of harsh punishments, a new video (viewable below, but somewhat tough to watch) making the rounds apparently shows a young gambler being caned by triad members allegedly acting on orders of the youth's frustrated father.
According to Free Malaysia Today, the video – the specific date and origin of which remains unknown – shows the youth sitting in a chair with his feet tied to a concrete bench, in what appears to be a public area. The youth is handed a phone, reportedly with his father on the line, prompting the youth to plead that he knows he screwed up and insisting he's changed his ways.
Despite the youth's pleas, an unidentified figure – reputed to be a triad member – proceeds to cane the exposed soles of the youth's feet, while reminding the youth who it was that had been forced to honor the youth's gambling debts. We're guessing the youth won't soon forget.