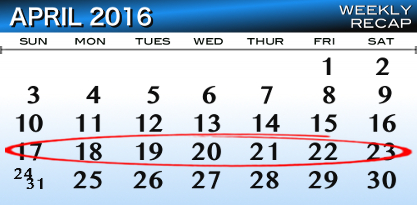 THE AMERICAS
Betfair set a May 10 date for the launch of America's first exchange wagering site; New Jersey said its online gambling licensees could operate in international grey markets; Kentucky became the fourth state to launch online lottery sales; Canada's Liberal government announced its opposition to single-game sports betting; a Canadian law firm mulled a class action suit against GVC Holdings; a federal judge cleared the Iowa Tribe of Oklahoma to launch its PokerTribe.com site; Boyd Gaming paid $380m for the Aliante casino in North Las Vegas; Delaware earned record online gambling revenue in March; Bitcoin online casino site Coinroll suffered a data leak while Soar Payments' Andrew Egan listed four benefits Bitcoin offered merchant payment processors; Sheldon Adelson upped the allowance of his anti-online gambling coalition; Massachusetts' first casino failed to spark an expected crime wave; attorney Martin Owens urged customers and businesses to play their role in reforming gambling laws; Amaya Gaming spokesman Eric Hollreiser admitted his firm aren't strangers to controversy and Rebecca Liggero previewed the top five sessions at the upcoming GiGSE 2016.
EUROPE
Ladbrokes had a stellar Q1 despite a seriously sucky Cheltenham; Betclic Everest announced it was closing its French-facing Everest Poker site; Russia's finance minister said he wanted to capture 'grey' market revenue then hit online bookies with a new 10% tax; another German court said the country's sports betting treaty was illegal; Bet365 became the first bookie to score headline naming rights on a Premier League stadium; Portugal's new online gambling regime might not allow poker networks; Oulala Games' Valery Bollier explained big data's influence on sports betting and Rebecca Liggero re(handi)capped all the action at the Betting on Football Conference 2016.
ASIA
Las Vegas Sands' Q1 profit fell more than one-third but Adelson stayed positive; Malaysia cancelled 8k phone numbers to fight illegal gambling text messages; Unibet joined the Australian online in-play sports betting party; Australia's financial watchdog expanded its money laundering lawsuit against Tabcorp; New Zealand sought to impose a 2% turnover tax on international betting operators; Bangladeshi police identified 20 Filipino, Chinese and Sri Lankan nationals involved in the great Philippine casino heist; Leisure and Resorts World Corp profit rose more than one-third in 2015; the Global Poker League struck a long-term strategic deal with China's Sina Sports and Asia Gaming's Kelvin Chiu explained the growing popularity of slot machines in Asia.
Comments