3-Barrels of pure value for you including an update on the Phil Ivey v Crockford's court battle, an NFL star skipping work to play some poker, and Tom Dwan needs your help.
Phil Ivey will have to draw on more reserves of patience if he is going to be £7.8m richer after a UK Court of Appeal Judge 'reserved judgment' in his court battle with the Genting-owned Crockford's Casino in Mayfair, London last week.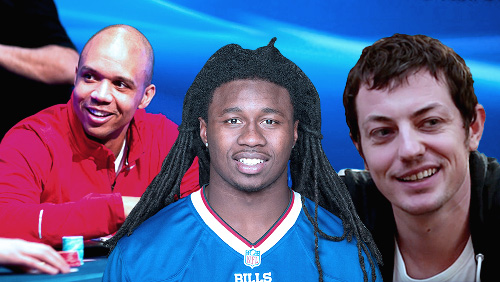 Ivey took the upmarket Crockford's Casino to the cleaners in August 2012 when accompanied by his partner Cheung Yin Sun, the pair used 'edge sorting' techniques to win the obscene amount of money, gambling up to £50,000 per hand in Punto Banco.
The Casino employee's smelled something fishy and after promising to wire the winnings to Mr. Ivey, eventually decided only to return his £1m outlay, and keep the rest, resulting in a long drawn out court case.
Ivey's date in court came in 2014 when the Judge ruled that Ivey had cheated during those sessions. He was allowed to appeal, and that's what he did. A report in CardPlayer magazine suggested that the Judge may take until September before making his final decision. Ivey is also involved in an almost identical case against the Borgata Casino in Atlantic City, only, this time, it's the casino trying to get their money back, not Ivey, who won $10m at the Borgata Baccarat tables.
Speaking on 60-Minutes Ivey said that these court cases were the biggest battles of his life.
"Because once you get 'cheater' next to your name in the business of gambling it's really bad." Said Ivey.
Not that it's bothered many others in the industry.
Buffalo Bills Stars Skips Training to Play Poker
Buffalo Bills star, Sammy Watkins, has hit the headlines this week, after deciding to skip his club's voluntary training sessions to play poker.
The NFL star posted a snap of his chips on Facebook as he competed in the World Series of Poker Circuit (WSOPC) festival in Harrah's Cherokee Casino alongside his former Clemson buddy Tajh Boyd.
Watkins and Boyd were in the area hosting a kids camp. The picture shows him cashing out $6,500 in chips, but we all know that doesn't tell the whole story now does it? The photo was shared 74 times and liked 1,100 times.
"He was one of the only ones to give his all last year. Let the guy relax!" said one poster.
Tom Dwan is Fine…Honestly
The first time I ever saw Tom 'Durrr' Dwan in the flesh was at a European Poker Tour (EPT) Main Event in Vienna. His presence was akin to the days when young girls used to faint when Duran Duran used to walk into a gaff. Only it was the media fainting.
These days we don't get to see him much, preferring to spend his days playing the high-stakes cash games in Macau and bailing out Asian businessmen who aren't connected to the triads or illegal sports gambling businesses in any way, shape, or form.
So you are more likely to see a yeti than the man who terrorized the online poker tables for so long, but don't worry, this week Durrr featured in a video showing all of his adoring fans that everything was aye-ok.
*Video created by SrslySirius
Comments