The European poker community is vast and with most of the countries now in a high state of alert Lee Davy shares his view on how he would change his ways if he were a traveling poker player.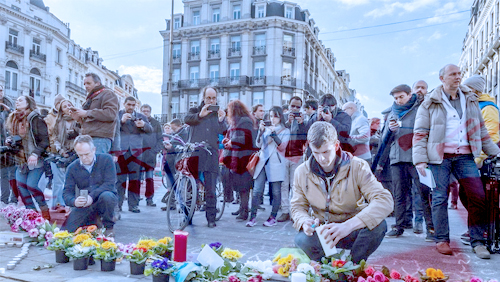 As I walked through the streets of Cardiff, this morning I thought everyone was a terrorist. It reminded me of the scene in The Matrix when Morpheus was teaching Neo about the danger of Agents during the 'Woman in the Red Dress' program.
"It's another training program designed to teach you one thing. If you are not one of us, you are one of them," Said Morpheus. "They can move in and out of any software still hard wired to their system. That means that anyone we haven't unplugged is potentially an agent. Inside the Matrix, they are everyone and they are no one. We survived by hiding from them, by running from them. But they are the gatekeepers. They are guarding all the doors. They are holding all the keys, which means that sooner or later, someone is going to have to fight them."

How can you fight something you cannot see?
A few months ago my wife Liza was working in Brussels at a poker tournament. I was there myself in October. I remember an old gypsy woman at the train station using a baby as a begging bowl. I wonder if they are both dead today?
The day before I crept into the back of the wardrobe and walked unexpectedly into the land of poker I had spent most of my life living in Ogmore Valley. I was one of 3,000 people who had sheep in their bins instead of dogs.
I thought I would live there all my life. I had no intention of traveling anywhere. My idea of a vacation was a constant supply of Strongbow, football on the TV, and a comfortable couch.
When my son was born, I couldn't think of a better place to live. It's one thing to worry about yourself. It's quite another to worry about a child. That's why my wife's family were so eager to contact her in the wake of the Brussels atrocities. Everyone just wants everyone to be safe. There was no place safer than Ogmore Vale.
Living in Ogmore Vale stunted my growth. Poker gave me an opportunity to change that. My first competition was the European Poker Tour (EPT) in Vienna. Boris Becker played in the contest – a man I had only ever seen on TV. I was grateful to stand next to him breathing the same air. Then Tom Dwan turned up and suddenly Becker was just another German.
I was then asked to work in Barcelona, Malta, Amneville, Marrakech, Prague, Venice, Dublin, Johannesburg, Mazagan, Copenhagen, Baden, Monte Carlo, Paris, Las Vegas and more.
I was always looking over my shoulder.
I was always ultra conservative.
I was as soft as a fontanelle.
I once thought I was going to be killed in Tallinn, Estonia after a taxi driver drove me into the forecourt of a disused factory after refusing to talk to me for 40-minutes (it turned out it was a trendy bar).
It was never about the terrorists.
I was the small town boy; hidden from the world and by the time it threw