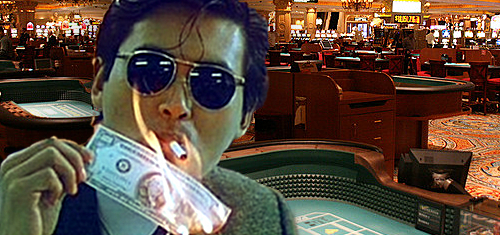 A new academic report claims that Macau's casino junket operators retain strong ties to Hong Kong triads and that casino management relies on these links to determine a junket's credibility.
Portuguese-language news agency Lusa recently reported on a new study by City University of Hong Kong professors, who suggested that junkets have evolved from their early renegade incarnations to a more corporate philosophy in which violence – whether to settle differences with rival operators or to collect debts from customers – is viewed as an absolute last resort.
The study, which was compiled over a period of three years from interviews with junket operators, triad members, casino staff and law enforcement officials, acknowledges that not all junkets are linked to triads but that such links are helpful to ensure gamblers recognize that their debts – which are legally unenforceable on the Chinese mainland – must be honored.
Casino management also reportedly takes a junket's triad connections into account to ensure that a junket can maintain order at the VIP rooms under its control, although casinos are likely to shed ties to junkets that garner a reputation for violence rather than risk blowback from gaming regulators.
Macau's Gaming Inspection and Coordination Bureau responded to the study by telling Lusa it had yet to identify "any triad being selected by casinos for work related to gaming rooms" but promised that it would take the "needed measures" if any such links could be proven.
MACAU VIP ROOMS A LOUSY WAY TO GET MONEY OUT OF CHINA
The Hong Kong study also claimed that Macau's VIP rooms allowed Chinese syndicates to launder 'dirty' money by engaging in simultaneous play at the same commission-free baccarat table.
The scam reportedly works like this: one player will bet a sum on the banker bet, while another player will wager the same amount on the player bet. Regardless of which bet pays off, the net result is a draw and the syndicate now has 'clean' money.
However, a new report by Sanford C. Bernstein analysts suggests that Macau VIP rooms represent one of the least efficient ways for wealthy Chinese to evade their country's capital controls. The brokerage examined 12 different ways of moving large sums of money off the mainland, and junkets were found to offer a "prohibitively" expensive process compared to other methods.
The Bernstein report noted that junket customers are traditionally expected to lose between 2.7-3.0% of their betting volume and that each dollar provided by junkets is expected to be rolled 5-7 times (often more), resulting in a net loss to the player over time of between 12% and 22% of the buy-in.
Bernstein noted that this premium was far higher than the price of dealing with China's underground banks, which typically charge a commission of around 1.3% for a 'match-making' service i.e. connecting a mainland individual hoping to convert a yuan deposit into foreign currency with another individual looking to convert foreign currency into yuan.