For anyone working in the Asian-facing online gambling industry, having a solid live dealer offering is essential.  More recently, the consumer interest in live dealer software has spread beyond Asia and European operators are jumping on board.
Surprisingly innovation in live dealer software has been stagnant, especially considering the size and scope of its popularity.  Amit Shalev, COO of Lucky Streak Live, a live dealer software developer, recognized an opportunity to build something different and now offers the "ultimate live playing experience for the home player".
In this interview with Shalev, we discuss the innovation behind Lucky Streak Live, the importance of gamification and personalization, inspiring innovation within an organization and the importance of having a presence at events such as ICE and LAC.
Becky Liggero: Thank you for joining me today to talk about Lucky Streak Live and innovation in Live Dealer software.  I know you think Live Casino products have been lacking in innovation- can you elaborate on how Lucky Streak Live has bucked this trend in the Live Casino space?
Amit Shalev: It seems the general look and feel of live dealer games has been more or less the same since Apple released the iphone back in 2007, but since then there have been huge technological advancements and gamification developments.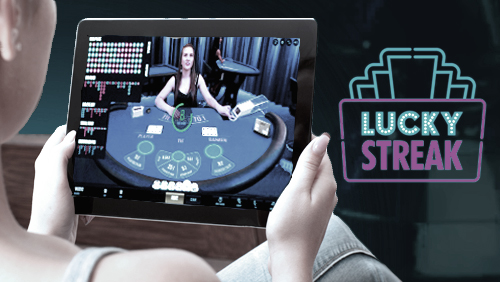 End users have become more demanding of the software they use, be it a word processor, a dating app or a live casino.
The average player has gotten used to get a high standard of gaming which is scarcely met in live casinos. Most live dealer software providers, for example, still broadcast the studio a 4:3 screen resolution, which is normally dedicated for a square TV screen.. When was the last time anyone bought a square screen?
This is what we decided to change. Using high end technology and with a "Player first" mentality, LuckyStreak has created the ultimate live playing experience for the home player –  in the form of the familiar casino games the player is used to, with a touch of gamification and reward features. The look and feel of the game resembles a real casino, with a wide 16:9 screen as well as exciting sights and sounds for an all around, more complete user experience.
BL: So in what ways does your live casino product personalize, gamify and maximize retention? 
AS: Our games are not generic.
On top of localisation features which include language and currency adjustments, we allow the users to design their experience based on their preferences. When a new player logs in to our games, we make an effort to mimic their habits in order to best tailor their next live casino experience. For example, if a certain player only plays VIP blackjack, then the first tables to appear in the lobby will be high end black jack tables. Let's say a player consistently chooses a specific dealer, our system will recognise this and allow us to create call to actions based on this data.
When the players expectations are met, they are likely to come back, at least this is what our numbers show.
BL: Personalization really is so important when it comes to CRM.  Switching gears a bit, Live Casino has been traditionally viewed as an Asian facing product, what are your thoughts on what markets are interested in live casino? 
AS: You are correct, live dealer certainly dominates the Asian markets and where the primary focus is on Baccarat. Having said that, we continue to see a steady growth in the European market for live dealer products. Many operators are looking for fresh new content in the form of interactive, live games.
BL: Ok, so there are opportunities in Europe as well and I appreciate the innovation you're injecting into the Live Dealer space globally.  In what ways do you inspire and reward innovation within your team? 
AS: Every Thursday after lunch, we blast some music and the whole office meets up for a brainstorm session. We have a great time and you would be surprised at the ideas which get thrown around, I know I do. At LuckyStreak, we run system upgrades every few weeks, and so these ideas we have in the brainstorm sessions actually make their way to the game – they employees love that everyone gets involved in the action.
BL: I love it.  We've recently wrapped up the ICE and LAC conferences in London and Lucky Streak Live had a presence at both.  What value did you find in attending these events and what was the reaction to your product from the delegates? 
AS: Because we are a relatively new company, it was important for us to leave our mark in ICE & LAC. Usually software providers only exhibit at ICE. For us it was important to attend LAC and meet the people that run the operations on a daily basis and have direct interactions with the players themselves. At the end of the day we believe that any product should revolve around Player Value and any input we can get from gaming professionals is valuable to us.
BL: I'm pleased to hear these conferences were so productive for you.  Anything else you want to add today?
AS: Can't forget about the dealers. Dealers can make or break any live casino, no matter how technologically advanced the software. At the end of the day, the player logs in to a live game to be around other people – noticed and acknowledged. This is why LuckyStreak's dealers are trained and encouraged to engage the users while still preserving a classy casino environment. We offer our staff acting and improv classes to improve their on camera skills in efforts to become better presenters and entertainers.
BL: That's a great point and as an on-camera personality myself, I love the idea of offering acting and improv classes.  Well done.  Thank you so much for joining me today Amit, I do appreciate it.