Embattled FIFA president Sepp Blatter is girding his loins to appeal his football ban.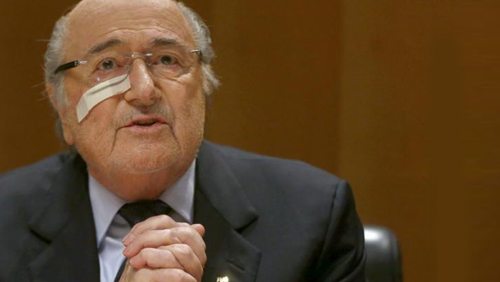 The 79-year-old is expected to make his case on Tuesday. On Monday, Union of European Football Associations (UEFA) boss Michael Platini also made his appeal at a FIFA appeal hearing in Zurich, Skysports reported. Platini told reporters: "I am not fighting for my future, I am fighting against injustice."
In December, an independent Ethics Committee suspended Blatter and Platini for eight years from all football-related activities. The decision was a result of investigations that confirmed Blatter paid out CHF2 million (£1.34 million) to Platini in February 2011, but it "had no legal basis in the written agreement signed between both officials."
The two men said the money was payment for work that Platini had done during his stint as a technical adviser between 1998 and 2002. The payment was not part of Platini's written contract, but both said it was a verbal agreement, which is legal under Swiss law.
FIFA, however, Blatter failed to demonstrate any legal basis for the payment, and "his assertion of an oral agreement was determined as not convincing and was rejected by the chamber."
Aside from his eight-year ban, Blatter was also ordered to pay a fine of CHF50,000 (£53,944), while Platini was told to pay CHF80,000 (£53,912) in fines.
Blatter and Platini plan to take their fights to the Court of Arbitration for Sport if their appeals fail at the appeals court.
Blatter's suspension officially ends the septuagenarian's long career as a football administrator. The Swiss FIFA boss, who has held the position since 1998, had already announced his intention to step down before the presidential election in February 2016.
Platini, on the other hand, was originally a favorite among bookmakers to succeed Blatter. The 60-year-old, arguably one of the most flamboyant and enigmatic footballers to ever grace a blade of grass, has been at the helm of UEFA since 2007. Last summer, Platini pulled out of the 2015 FIFA Presidential campaign to concentrate on his job at UEFA.
UEFA announced last month that it will hold off elections for presidency until Platini's appeal process—successfully or not—is completed.
Comments