It's way too early to make MLB 2016 futures predictions, but I'm going to do it anyways. The win totals are coming out soon, even though we can safely project what those might be. What I do know is who's valued where in the World Series futures market. Would you believe that the Cubs are the favorite to win it all in 2016?
Beyond that, I'm intrigued by all the happenings in the NL West with player movement galore. Are the Jays going to rebound from losing David Price and another key part of their franchise? Does the road to the World Series still go through Kansas City?
Let's address some of the big ticket questions as we prepare for opening day in just under two months.
*all odds courtesy of Oddshark
ARIZONA PAYS THROUGH THE NOSE TO GET GREINKE
It may have taken $206.6 million dollars to do so, but the Diamondbacks finally got the pitcher they were looking for. Zach Greinke arrives in the desert this summer to torture his former team in the NL West. And he certainly lived up to his infamous quote from 2013 when he stated, "I could play for the worst team if they paid the most".
Arizona was that team this year. Greinke remains all about the money, and it doesn't matter what you think about this personal ideology because he backs up every cent. The Cy Young runner up in the National League threw 200 strikeouts, while leading the league with a 1.66 ERA and a 0.84 WHIP. His 5.9 WAR was also the 7th best amongst all pitchers last season.
Greinke is the type of extraordinary talent that Arizona needed in its rotation. After scoring the second-most runs in the league last season, their pitching is what ultimately cost them during 2015, leaving A.J. Pollock's brilliant .315/.367/.498 line to waste.
While the win totals haven't been released just yet, it's anticipated that the Diamondbacks will fall somewhere in the neighborhood of 84 wins. That would be a significant boost from last year, where they were given a 72.5 number overall. Call it the Greinke Effect.
It's a definite coup for the Diamondbacks, but there's also a dark cloud hanging over this silver signing. Did Arizona just pay Greinke for a brilliant 2016 season where he caught basically every break (no injuries, played on a great team overall) last year? They just paid a lot of money to find out.
SAN FRANCISCO'S BIG GAMBLE ON JOHNNY CUETO
Johnny Cueto couldn't get out of the American League fast enough despite his roller coaster ride in Kansas City culminating in a World Series ring. His final game against the Mets (an NL opponent) was also his best in the post season. I'm sure that nobody really remembers how he got smashed by Toronto during a two inning embarrassment that saw the Jays hammer in 8 runs off of 6 hits while chasing the portly Cueto off the mound. That seems like a lifetime ago.
The Giants ponied up $130 million to lure Cueto back to the calmer strike zones of the National League, but the deal has an opt out clause which gives the pitcher the option of bolting for more money at the end of 2017. If he decides to stay, it's because things aren't going well and he'll just take the $21 million from '2017-2021 happily.
Jeff Samardzija joins Cueto in the Bay Area to make the hunt for the Dodgers in the NL West even more interesting. A return to the NL is the right move for Cueto, but now he's thrust in to a division that's heavy with two legitimate contenders for the playoffs that can hit the bejeezus out of the stitches.
As is always the case, every team in the league will be coming after the Giants. They look and feel like the most stacked roster in all of baseball and they only got better this past offseason.
Oh yeah, and it's an even number year which means that it's almost irresponsible for you not to throw a flier at the Giants to win the World Series. They're at +750 right now, and that number will float up and down throughout the season. Just go ahead and put $50 on it. You can do worse than leveraging a long-term play on a franchise that's won three World Series in this decade alone.
L.A DODGERS MAKE A MOVE WHERE IT MATTERS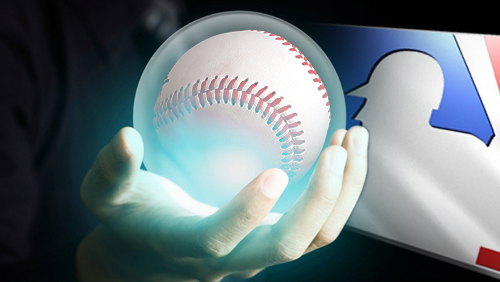 Sure, the Dodgers lost out on Greinke, but they also landed one of the most coveted free agent talents in all of baseball – Alex Anthopoulos. The former vice president of baseball operations for the Toronto Blue Jays sought a new kind of challenge. He found one in Los Angeles.
Don't hate on Anthopoulos for striking while his iron was hot. His stock has never ever been higher, and it's obvious that he had intentions of moving his family stateside after spending his entire life north of the border with the Expos and Jays (he's also from Montreal).
The tactical advantage of having Anthopoulos in the front office is that he'll know when to make moves, and when to hold steady. The Dodgers may print money at an obscene rate, but they've often frontloaded expectations at the beginning of the season. Having a multi-billion dollar payroll will do that to you.
With Anthopoulos, they can make the type of mid-season moves that turned the Jays from outside shots in to World Series favorites.
The departure of Greinke certainly feels like part of the slow game the Dodgers seem to be employing in the meantime. At the very least, it's the most opmitistic spin you can put on the departure. Anthopoulos can't throw a baseball worth a damn at the professional level, and replacing Greinke's all-world level of production is going to be an impossible task. But he still has standouts like Joc Pederson, Yasiel Puig and the always entertaining Clayton Kershaw.
I would hold off on the Dodgers right now in any futures market. Their win total should lock in somewhere in the high-80's, but I'm interested to see how the loss of Greinke impacts these odds. They were handed a mark of 91 to kick start 2015. At +1400 to win the World Series, they're already behind the eight ball set by the division rival Giants.
For once, the high rollers of Los Angeles are a wait-and-see type of team to watch. With Anthopoulos, that's an exciting position to be in for the formerly front running Dodgers.
THE FEAR SURROUNDING THE CHICAGO CUBS
If there's any team that's going to receive a severely bloated win total, it's the Chicago Cubs who are also a +400 favorite right now to win the World Series. It's like people forget how easily the Mets dispatched of them in the NLCS. From hitting to pitching, there are few things to dislike about this team. The major concern is youth.
Superstar Kris Bryant is 24 years old, as is much of the team around him. They just signed the 34-year old Ben Zobrist to a 4-year deal worth $56 million after he helped the Royals win the World Series. It's a lot to ask of a utility man to be the veteran presence on this team.
I'm very cautious with the Nationals (+1600) and Cardinals (+2000) to win the World Series, so there's no way I'm rushing to the gates to invest in the World Series favorite for 2016. This number will be here if I feel like betting it in July
Even then, I'm not so sure that it's a smart wager considering who's defending the World Series championship title.
TORONTO LOSES PRICE, ANTHOPOLOUS BUT NOT ALL HOPE
We ask this question every single season, but last year was an astonishing revelation. Toronto's a great team overall, and the craziest offense in the league. Toronto is going to stare down the barrel of another winning season and are probably pointed to a season win total of 88 wins after decimating the 83.5 wins they were pegged for in 2015.
But they have integral problems that emerged in the post season against the hitting of the Kansas City Royals. Toronto doesn't know how to play small ball. During the entire American League Championships Series, it felt like they were going for a home run during every at-bat. They stranded so many runners on base without any intention of advancing them forward in logical increments. "Get a guy on base, slam it home," was their plan all along.
As they found out, that's a losing strategy. Losing David Price in the bidding war to Boston for an off-season leading $217 million over seven years might have been a godsend for the playoffs, but getting to the post season is step one for any team in the cranked up American League East. You need every single win you can get.
No matter what you think of Price in the playoffs, he's relative gold in the regular season, which is why Boston went out and got him. The insane part? Toronto didn't even offer him a contract.
A lot of that has to do with the sudden departure of Alex Anthopoulos, who heroically built a contender before departing for the Dodgers. The franchise got caught with its tail between its legs.
This is a bigger deal to Toronto than they'd have you believe. The batting order is absolutely stacked, but injuries are always a concern with Bautista and Encarnacion. Anthopoulos won't be there to wheel the same type of mega deals that he did while in town, and his absence has already cost them Price. The pitching in Toronto is suspect at best, even with emerging talents like Stroman and Estrada.
The AL East is as wide open as always. I won't even get to the Baltimore Orioles because of space, but all bets are off for me in this division until we get to July and the playoff race begins to take shape.
WHY HAVEN'T YOU BET KANSAS CITY TO WIN THE WORLD SERIES YET?
The only major losses to the roster were Johnny Cueto, a midseason acquisition who I've already talked about at length, and Zobrist The fear was that Alex Gordon would also walk in free agency, but the Royals managed to retain him on a 4-year deal worth $72 million. It's a massively team friendly from all angles. Gordon was worth a pinch more on the open market to other teams.
The Royals have also reportedly agreed to a two-year, $14.3 million deal for Mike Moustakas. I wouldn't call it a "home town discount" because Moustakas and Gordon aren't from Missouri, but those deals feel on the cheaper side.
That's the culture of Kansas City for you. It simply doesn't get better than what they have going. Money can't buy what the Royals have built during a two year run where they've won 184 games and 7 World Series matchups. The players know that.
To cut things short, the Royals are the best team in baseball no matter what the odds say. They'll share a mark of 87 in win total projections with teams like the Mets, Jays, Dodgers and Nationals while their World Series odds are already set at +1600. If you're not lobbing a chipshot at that, then you haven't been paying attention to the past two seasons.
Or maybe you just don't care because opening day is on April 3rd.