Another eSports player is being investigated for alleged involvement with match fixing, delivering yet another blow to the already embattled competitive gaming community.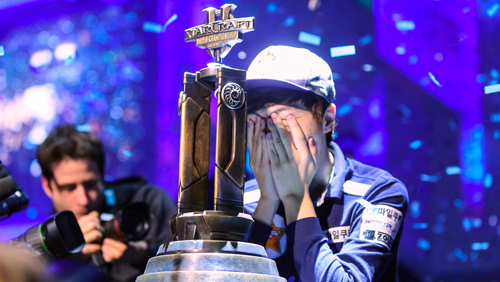 South Korea's Lee Seung Hyun is the latest eSports player to join the police's investigation list. Media outlets reported that the professional player—who goes by the name "Life"—was taken into custody last week and is under investigation for "allegedly participating in professional tournaments."
According to an Inquirer.net report, which quoted the Changwon District Prosecutor's Office, Life has been involved in several match-fixed games. There is no official announcement yet on the cause of the investigation or whether Life has been charged with anything.
However, the prosecutor confirmed that the allegations against the pro eSports player were "tied to the match-fixing scandal" in 2015, the news outlet reported.
The 19-year-old South Korean, considered as one of the youngest professional StarCraft players, signed with eSports team ZeNEX when he was only 14 years old and won his first major title a year later. Since then, Life went to win a total of 10 professional tournaments, including the 2014 World Championship Series.
Late last year, South Korean authorities arrested 12 people in connection with a fixing scandal linked local StarCraft 2 team Prime. Among those arrested were Prime coach Park "Gerrard" Wae-Wik and pro player Choi "YoDa" Byeong-Heon, who reportedly received payments ranging from $5,000 to $20,000 to participate in match fixing.
According to the Korean eSports Association (KeSPA), they first learned of the scandal through an anonymous tipster seeking a reward. After an investigation, local authorities and KeSPA determined that at least five matches in the Proleague and Global StarCraft 2 League (GSL) competitions in 2015 were subjected to fixing.
KeSPA said the association still has a "zero-compromise" stance on illegal betting. If found guilty, Lee Seung Hyun could lose all of the StarCraft 2 titles that he won under KeSPA's jurisdiction. The association could also ban the pro player from joining other events, but it is unlikely that the teen would spend any time. Other players convicted of match fixing, such as Ma "sAviOr" Jae Yoon, was sentenced to community services and probation, according to SiliconAngle.