3-barrels of pure value including news of a pending wedding between James Packer and Mariah Carey; former disgraced Full Tilt boss Ray Bitar tying the knot, and Phil Hellmuth falls in love with Jay-Z.
Grammy award winning warbler Mariah Carey will be hoping its third time lucky after agreeing to marry Australian casino mogul James Packer. To be fair, an affirmative response usually follows from having a 35-carat diamond ring shoved under your nostril.
The pair has been dating for a year. Packer proposed on Jan 21 while the pair were romancing in New York City. According to Forbes, 48-year old Packer is the fourth richest man in Australia, worth an estimated $4.7 billion. He will need every penny. Carey once closed down Disneyland, and dressed as Cinderella, so she could renew her vows with her current husband Nick Cannon.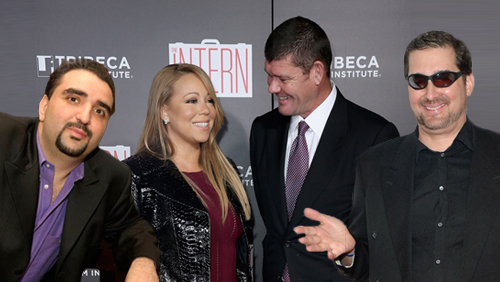 Current?
Yes, that's right.
Cannon and Carey are still married.
Sheer trivialities I am sure.
Carey has been married once before. She wed music executive Tommy Mottola, before tying the knot with Cannon. She has four and a half year old twins, Monroe and Moroccan, from that relationship with Cannon.
The Crown Resorts owner has also been married twice before. In 1999 he wed model Jodhi Meares. They separated in 2002. In 2007 he wed singer Erica Baxter. They divorced in 2013, but not before having three children.
Ray Bitar Marries Jackie Lucas
While this might be old news, it's new news.
Poker Update scribe Charles Rettmuller has discovered that former disgraced Full Tilt CEO, Ray Bitar, married Jackie Lucas in Oct 2015.
Bitar was one of 11 people charged with a series of crimes in the wake of Black Friday. The only reason he avoided porridge was because he desperatelty needed a heart transplant, and it was felt he could die if sent down.
Bitar and Lucas used the service of Amazing Registry so their guests could pony up some series hardware in the form of gifts. Macy's and Bloomingdales were the main points of call, although there was the option of giving them a Amazon gift card. Something tells me that particular gift me have been top of most people's list; it certainly wouldn't have been the Lalique Fantasia Vase priced at $995.
The lad did well though. Out of 43 gifts up for grabs, 19 of them were purchased.
What would you have bought the pair?
Hellmuth Falls For Jay-Z
Last but not least, 14-time World Series of Poker (WSOP) bracelet winner, Phil Hellmuth's heart was all a flutter at a recent Golden State Warriors game in Oakland this week.
Don't worry it wasn't a women who got him in a tizz. We know you are a faithful guy Phil. Instead, it was none other than Jay-Z who prompted Hellmuth to tweet no fewer than three times that he bumped into the rap megastar while walking around the court looking for people to take selfies with.
PIC: love this picture! Jay Z and I last night on the floor. I'm a big Jay Z fan, and J has some poker skills! pic.twitter.com/TY1oiEBGgk

— phil_hellmuth (@phil_hellmuth) January 26, 2016
Perhaps the pair were talking about Jay-Z's most recent lawsuit. Parlux Fragrances are suing Jay-Z for $20 million, after alleging the rapper failed to promote their Gold Jay Z fragrance.
The pair inked a deal back in 2013, at which tie Parlux Prez, Donald Loftus, said that everything Jay-Z touches turns to gold. Hellmuth will be hoping that's true. After all, that handshake could now be worth bracelet number 15.