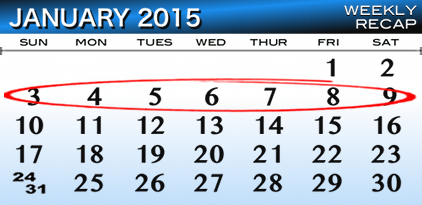 THE AMERICAS
A California Assembly committee approved a detail-free daily fantasy sports bill; gaming's share of Las Vegas casino revenue hit a record low in 2015; a study found that problem gamblers have different brain structure while another study found that elevated testosterone got in the way of poker profits and a third study found gambling games help kids learn; rule changes pushed the Powerball lottery to a record high jackpot; NetEnt's Bjorn Krantz explained his company's plans for US market domination; Activision Blizzard acquired eSports outfit Major League Gaming and Unikrn's Rahul Sood said eSports' fan base would rival the NFL's by 2017; Rafi Farber offered his casino investment picks for 2016 and Bryan Piccioli joined Tatjana Pasalic for this week's episode of Chats with Tats.
EUROPE
Dutch politicians introduced a surprise proposal to tax online gambling at the higher land-based rates; Bwin.party posted revenue growth for the first time in two years; Lithuania began enforcing its new online gambling restrictions; PokerStars changed its logo and Amaya Gaming hired CP+B to manage its BetStars marketing campaign; Isaac Haxton cited ethical concerns in resigning from PokerStars Team Online while players launched their second boycott of the poker site; Greece said it would proceed with its online gambling licensing plans; London's Cromwell Mint Casino sacked a poker dealer for hiding chips in his socks; affiliate manager Frank Ravanelli discussed the differences for DFS affiliates in Europe and America while Fanteam CEO Kristoffer Zvickell told Lee Davy why he should be playing daily fantasy sports and Coinsilium CEO Eddy Travia talked up the potential of blockchain technology.
ASIA
Macau junkets were hit with yet another internal theft scandal; a former Chief Justice said India should legalize cricket betting but India's Justice Minister said he wasn't having it; Taiwan busted the largest online gambling ring in the country's history while China arrested 470 members of a bogus online lottery ring; James Packer got into a dustup with a Crown Melbourne security staffer; South Korean casino operator Paradise Co Ltd's 2015 sales slumped; Vietnam said cruise ships could keep their casinos open in local ports; illegal UnionPay card use in Macau totaled $153m in 2015; The Star sought permission to add a $500m hotel to its flagship Sydney property; Macau's Greek Mythology casino shut down for unexplained reasons; Japan's casino legislation faced further delays; Iao Kun Group's VIP turnover fell 61% in 2015; Sportsbet launched its own online in-play betting app while the Australian state of Victoria prevented Tabcorp from accepting wagers on UFC events over integrity concerns.
Comments