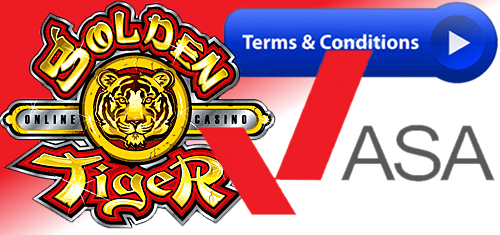 The UK's advertising watchdog has administered a spanking to Golden Tiger Casino for misleading customers.
The UK Advertising Standards Authority (ASA) received a complaint regarding an email promotion last October from the Malta-based Golden Tiger Casino. The email offered players a "£1,500 FREE! Welcome Bonus," adding that "if you win, you get to keep it" while cautioning that "deposit is required to claim your winnings."
The complainant complained that the "if you win, you get to keep it" line was misleading because the ad failed to stipulate that punters would be required to re-wager their bonus winnings 60 times before the casino would allow players to cash out these funds.
In its response, Golden Tiger's parent company Apollo Entertainment Ltd noted that the email contained a footnote stating that "terms and conditions may apply." Apollo further noted that players who clicked through from the email were directed to the promotion's landing page, which listed this play-through requirement. The page also contained a link to the site's T&C's, which players had to confirm having read before the bonus offer was granted.
Bollocks, said the ASA, which upheld the complaint against Golden Tiger, ruling that since the offer was intended to encourage punters to sign up with the site, the offer's pitfalls needed to be more plainly spelled out up front.
The offer's full conditions were found to be two clicks away from customers who received the email, which the ASA deemed a click too far. The ASA also took issue with the promo's assertion that conditions "may" apply when they clearly applied in this case.
Finally, the ASA took issue with the offer's "if you win, you get to keep it" claim. The ASA said it recognized that this was subject to a wagering rollover but felt this condition was sufficiently significant to affect a customer's decision whether or not to sign up with Golden Tiger and thus the requirement needed to be more prominently displayed from the outset.
The ASA ordered Golden Tiger not to repeat the offer in its current form and to ensure that future promotions included all the applicable significant conditions.
Comments