An ex-pole dancer's animal charity in South Australia was stripped of its license over allegations that the funds it raised were used for online gambling.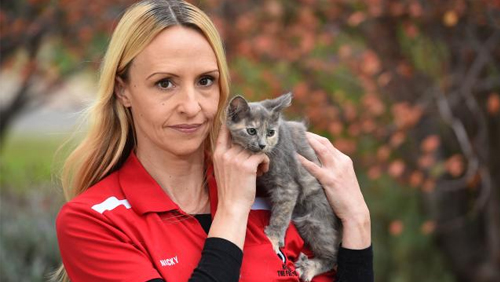 Confessed cat lady Nicky Hocking founded an animal shelter in 2011 called "Help Save the Furry Ones," which takes in stray and unwanted kittens. According to 7 News, Hocking used her talents on the pole to raise money for the charity.
Liquor and Gambling Commissioner Dini Soulio, however, is warning the public against donating to the shelter, which he said had it charity licensed revoked.
"Consumer and Business Services (CBS) received information alleging that some of the funds raised by the charity for the care of animals were being transferred to a company associated with online casinos," Soulio said in a statement.
The charity raised money using its Facebook page and website. The sites featured a video by two children who had already given "all of their savings" to the shelter, according to The Advertiser. The charity claimed to have raised more than $35,000 that will fund a new home for Hocking's furry friends, after the local council ordered the animals removed from the woman's home.
"I have made a determination that the funds being raised for a charitable purpose were being mismanaged or misapplied, and the license was revoked," Soulio said. "The operator of Help Save the Furry Ones is no longer allowed to solicit funds, and I would warn South Australians not to donate to this organization."
New York man claims banks, online gambling operators illegally collect on debt
Meanwhile in New York, a man has filed a class action lawsuit against several banking, payments processing and online gambling companies over alleged illegal debt collection.
Yehuda Guttman is among the many people who have bet and lost money through FanDuel's and DraftKing's site. Now, LegalNewsLine reported that the man is going after the daily fantasy sports companies, along with Visa, MasterCard, American Express Credit Corp., JP Morgan Chase & Co., Merrick Bank Corp., Capital One Bank, Paysafecard.com USA, and Vantiv on claims that the companies violated the New York General Obligation Law, unjust enrichment, fraud and misrepresentation, and negligence.
In his lawsuit, Guttman said the banks lent him money for his wagers on FanDuel and DraftKings, while Visa, MasterCard, and American Express received a fee for facilitating the money transfer. Paysafecard.com and Vantiv, on the other hand, served as a financial intermediary between the gambling sites and the customers.
The news outlet quoted Guttman's lawsuit, which claimed the banks "collected and continue to collect debts on the credit they lent for the purpose of wagering on the gambling sites." The New York law forbids the enforcement or collection of debts issued for illegal gambling, according to the suit.
Guttman and others in the class action suit are seeking an undetermined amount of money in "restitution, statutory and punitive damages," lawyer fees and costs of the suit, as well as an "injunction permanently enjoining the defendants from engaging in the unlawful practices described."
Comments