Joe McKeehen eliminates the first three opponent's to take a huge chip advantage into Day 2 of the World Series of Poker Main Event Final Table in Las Vegas.
Joe McKeehen has a fingertip on the World Series of Poker (WSOP) Main Event bracelet after storming out of the Day 1 gate like a man possessed.
The chip leader eliminated three players in less than six hours of action, and will sleep soundly tonight knowing that when he returns he has the chips to play absolute havoc.
It only took two hands for the first elimination. Joe McKeehen applying maximum pressure by shoving into the two shortest stacks at the table, and the man with the second shortest of those stacks, Patrick Chan, made the call.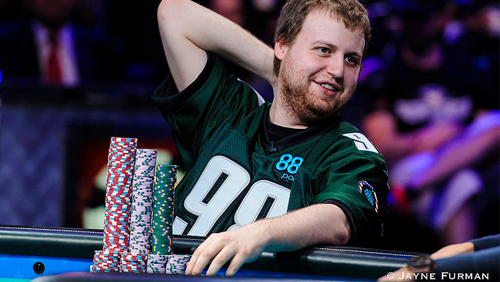 Showdown
McKeehen: [Ad] [4h]
Chan: [Ks] [Qc]
Board: [Tc] [6h] [5s] [3h] [9c]
McKeehen's ace-high held up, and Chan was the first player eliminated. During his press conference, he looked visibly upset as he told the crowd, "I have to call. I think I am ahead of most of his range. I could be dominating a lot of cards that he is jamming with."
Chan's bust means he was the only player to leave without adding to the million dollars he won in the summer.
Hand #35 would be the marker for the second elimination and Italy's Federico Butteroni had his name all over it. It doesn't matter how much training Butteroni could have gotten from the great Phil Hellmuth Jr. he was never walking away from this cooler with his tournament life intact.
McKeehen opened the button for 1m and then called when Butteroni moved all-in from the small blind for 3.4m.
Showdown
McKeehen: [As] [Ks]
Butteroni: [Ah] [Jc]
Board: [Tc] [6d] [3d] [9s] [7d]
For the second time, ace-high was good enough for McKeehen.
"It was like a dream. I was hoping to run good, but I am happy because I busted eighth and not ninth, so I improved my position," Butteroni told the waiting press, "I try to represent as best I can my country. I was representing Italy and trying to do my best for Italy and all the friends who believe in me."
That one-two combination handed McKeehen 70m chips, and it would soon rise to over 90m after the elimination of Pierre Neuville. The Belgian's exit appeared at Hand #72 when he moved all-in from the big blind for 3m chips after McKeehen had opened the cutoff for 1.2m; McKeehen called.
Showdown
McKeehen: [Jh] [6h]
Neuville: [Ac] [Jc]
Board: [Qd] [Td] [3h] [Qh] [Th]
This time, it was Neuville hoping for the ace-high win, but instead the deck pushed out a runner-runner heart combo to hand McKeehen a devastating flush that must have been difficult for the septuagenarian to stomach.
"It was a wonderful story. It was history happening in poker," Neuville told the press, "This last two months is the best drama of my life. I will forget the last two cards. When is the next tournament so I can fight back?"
Here is the tale of the tape after Day 1.
WSOP Main Event Final Table Chip Counts
1st. Joe McKeehen – 91,450,000
2nd. Ofer Zvi Stern – 32,400,000
3rd. Neil Blumenfield – 31,500,000
4th. Max Steinberg – 16,000,000
5th. Joshua Beckley – 10,875,000
6th. Thomas Cannuli – 10,425,000
The six-handed action will start at 4.30 (Vegas Time). The next person who busts will receive $1,426,027, and all eyes will be on that first prize of $7,680,021.
Right now, it looks like only one man will walk away with that amount, and his name is Joe McKeehen.
WSOP Main Event Final Table Payouts
1st. $7,680,021
2nd. $4,469,171
3rd. $3,397,103
4th. $2,614,558
5th. $1,910,971
6th. $1,426,072
7th. Pierre Neuville – $1,203,293
8th. Federico Butteroni – $1,097,056
9th. Patrick Chan – $1,001,020