Following on from a successful beginning the 2016 Global Poker Index World Cup will return with an increase to 12 teams, a group system, and the introduction of The Cube.
When I was 10-years old, my Uncle Alan lived with me. I loved my Uncle Alan. We always played games.
We never had much money. We couldn't afford a game console. Instead, my Uncle and I would copy all of the world's national football teams from the Rothmans Football Yearbook onto pieces of paper, cut them out with scissors, scrunch them up and then draw them out of a bowl into World Cup Groups. We would then roll dice to determine the scores. We wrote every match, and World Cup into a notepad.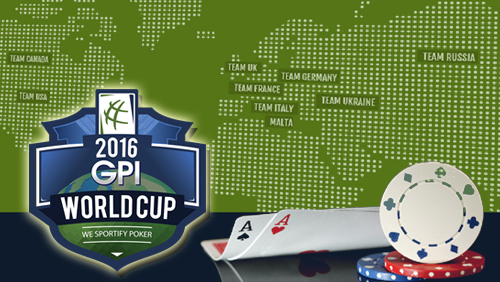 It was epic.
Alex Dreyfus is like my Uncle, Alan.
Only, he doesn't use pieces of paper.
His toys are the real thing.
In 2015, he resurrected the team concept that has been tried and failed numerous times before. It did rather well. Give it a few more years and we will have a better understanding of its potency.
In Q4 2016, the second iteration of poker's premier national team event: The Global Poker Index (GPI) World Cup will return. It will be bigger. There will be 12 nations, divided into three groups of four teams. The winners of each group will go forward to the final, and a third team will join them via a playoff process.
Reigning champions Italy will qualify automatically. The highest ranking North American, South American, European and Asian-Pacific teams will join them. The remaining seven teams will be chosen from the highest point scoring nations in the GPI World Rankings.
As things currently stand the following teams would qualify.
1. Italy (champions)
2. USA (North American)
3. Argentina (South American)
4. Germany (Europe)
5. Australia (Asia-Pacific)
6. Canada
7. UK
8. Russia
9. France
10. Ukraine
11. Spain
12. Austria
Each nation will select the top two players as per the GPI World Poker Rankings (as of July 20, 2016). The 2015 GPI Player of the Year from each nation will also receive a spot on the team. The final player from each team will be a wildcard entry.
The Global Poker League's (GPL) signature arena: The Cube will host the final stages of the event. The venue is not known at present. The 2015 event attracted well over a million live stream viewers. Expect more in 2016.
Comments