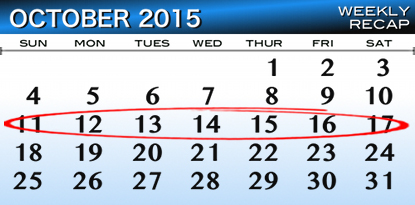 THE AMERICAS
It was another craptacular week for daily fantasy sports, as Nevada declared DFS to be gambling and used DraftKings' CEO's own words to make their ruling; the DOJ and FBI reportedly opened their own investigations into DFS activities and a US Attorney in Florida subpoenaed the board meeting minutes of the Fantasy Sports Trade Association; New Jersey's sports betting advocates rejoiced as a federal court agreed to rehear its legal arguments; online poker revenue hit new record lows in both New Jersey and Delaware; Pennsylvania stacked its House Gaming Oversight Committee with online gambling fans ahead of this week's vote; GAN's Simulated Gaming signed its first Vegas customer and Rocket Games' Niko Vuori offered social casino operators tips to distinguish their offering; Station Casinos filed for an initial public offering; venture capitalists said gambling is the future of eSports; PayNearMe GM Christian Solomine explained why the gambling world needs alternative payment solutions and Tatjana Pasalic cornered Matt Salsberg for this week's instalment of Chats With Tats.
EUROPE
Romania put both Bet365 and Bwin.party on its online gambling blacklist despite both operators paying back tax claims; the UK Gambling Commission launched a review of third-party software use on poker sites; Russia proposed new means of payment-blocking online gambling sites; a couple of riled up Czech lawmakers bet each other $421k over which one of them was a liar; Melco International decided to go it alone on its Barcelona casino bid; Betsafe inked a betting partnership with Manchester City FC; Colossus Bets' Tony Plaskow revealed the genius behind the Fracpot fractional jackpot concept; StickyEye analyst William Hoyle explained why big bingo brands are losing ground to smaller operators; All In Translations' Valentin Stanga offered a roadmap for European Union regulated markets while Romanian writer Mihai Volnea surveyed the gambling landscape in Eastern Europe; a hacking group made off with 150k credit card numbers from an unnamed casino's database and Rebecca Liggero recapped the action at the inaugural Matchbook Traders Conference.
ASIA
Chinese state-run television accused South Korean casinos of using a prostitution price list to lure gamblers; VIP gamblers recorded an all-time low share of Macau's gaming revenue; Melco Crown Entertainment learned that Studio City would get more gaming tables than expected but that didn't stop Steve Wynn from having a minor meltdown over Macau's table cap; Galaxy Entertainment's Q3 profit fell more than one-third; Australian bookies offer 3x more inducements than their international competition but Sportsbet's latest campaign told problem gamblers to take a break; the Bombay High Court gave the state of Maharashtra six months to decide whether it wants casinos; Tony Fung had second thoughts regarding the scale of his proposed $8b Queensland casino project and Rafi Farber warned that Cambodia's NagaCorp remains a risky investment.