Lee Davy casts his mind back in time to help answer the question: 'is poker gambling?' helped by the likes of Marvin Rettenmaier, Andy Frankenberger, Jared Tendler and Dan O'Callaghan.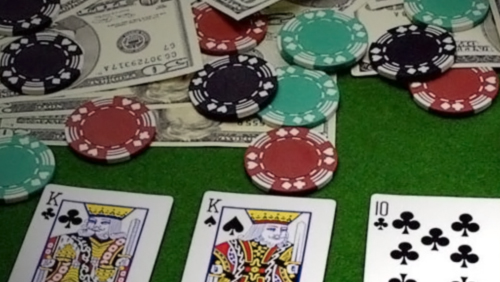 The English national football team has failed to qualify for two major tournaments twice in my lifetime. The first was in 1994: what a great year that was. I drowned my sorrows at Glastonbury Festival. The second was 2008 – and that year, things weren't so great.
England needed just a point at home to Croatia, in their final group game of the 2008 European Championships qualifying campaign. I watched the game at home on TV as a gambling addict masquerading as an England fan. I was cast iron sure that England would get the result, and that's where I put my money.
Croatia took a shock lead in the eighth minute when Scott Carson fumbled a long-range shot from Nico Kranjcar. It was just the spot I needed. Still feeling confident that England would get the result I started to lay Croatia. They made it two in the 14th minute. Still unperturbed I slammed even more money on Croatia not winning.
England eventually pulled the game back to two apiece. Not content I started piling even more money on England to score the next goal, and to win the match outright. They were on fire. Croatia's bridge to the finals was rotting. Then, in the 77th minute, Croatia stunned England with the winning goal.
Who can forget the sight of a hapless Steve McClaren standing on the sidelines, umbrella in hand, as his talented side went out. They called him the wally with the brolly. For me, it will always be remembered as the night I ran out of places to hide my sports betting debt. That was the contour of my personal hell.
For the next three years I would try and win that money back. I would gorge on chips at the casino tables, then like a bulimic, I would spew them all back. But it was the sports betting that really hit me hard. I was like a fading light bulb, and the lights went out sometime in 2010.
Fearing my marriage was going to end, and that I was slowly turning into a lunatic, I decided to quit alcohol and gambling. I eventually paid my debts through a combination of poker and early retirement. I still play poker. A decision that puzzles people, in the same way, a burrito server puzzles you when asking if you want extra guacamole for 75p.
How can I play poker, and not need Vaseline at the ready so sports betting and casino games can give me a good old fashioned buggering?
Is poker gambling?
"It's very dependent on the person," said two-time World Poker Tour (WPT) champion Marvin Rettenmaier. "I know people who are gambling when playing poker, but that's fine as long as it's in within the confines of their bankroll. In general, poker is a skill game, so I wouldn't say it was gambling."
Of course, there are times when I 'gamble' when playing poker. But I was never overcome with the same primal buzz of electricity as I was when I was in-play sports betting, or watching the wheel go around.
It was never about the money for me. I would set my bots up, they would place my sports bets, I would go to work and come home to check on the results. I was winning and losing more in a day than I was earning in a month on the railway, but I never once got caught up in the money. Not until the night McClaren got his brolly out.
There was something more to it than that.
"Any game where there is money at risk, and relies on chance, is gambling." Said WPT and World Series of Poker (WSOP) champion, Andy Frankenberger. "So the question, stated differently, becomes: is poker a game of skill or chance? In the short term, poker, it could be argued, is a game of chance, but as most poker players understand, over time the element of chance is dwarfed by the element of skill.
"I constantly correct people when they call me a gambler. I am one of the most risk adverse people I know. I don't like to bet for the sake of betting. I take calculated risks where I expect a positive outcome. Trading is similar. In the short term, trading can be viewed much like poker, in that any given trade could go for or against you, but over time, smart decisions and trading acumen shine through."
I'm a long-term winner in poker, but it's not an amount that is significant enough to have any meaning. What I can't understand is why I never decided to invest large sums of money playing poker, whereas I had no problem doing likewise on sports and table games.
"Perhaps you figured out that losing control in poker would be the kiss of death." Frankenberger advised. "Part of the skill is keeping your cool and making smart decisions. You can go nuts with sports betting and the outcome is not dependent on you. It's the same with roulette."
"Poker can be a form of gambling." Says Global Poker Index owner Alex Dreyfus." You gamble with your money and that provides a thrill. You want to win because you can also lose. That's very true in cash games, but much less true in tournaments, and not true at all in 'play for fun' games, which is 80% of the people."
Both Frankenberger and Dreyfus make some excellent points. I'm not a winner playing cash games, but I am a winner playing tournaments. The mist clears. The high never came with the result. The high came at the precipice of that result. Each time I reached the top, I came back down like an avalanche. It was a need for instant gratification. The wheel gave me that; Craps gave me that and in-play sports betting gave me that.
I would lose money playing cash games because it was easier to gain instant gratification. I would reach the precipice of the high – win, or lose – and then reload my quiver with poisoned arrows looking for the next target to hit. When I played tournaments, this wasn't that easy. There was a lull. It wasn't easy to get a quick fix. By the time I found one, the chemicals in my brain had rebalanced. The desire was gone.
So why didn't I just blow all my money playing high stakes cash games?
"There is something very masochistic about gambling." Says PKR pro-Dan O'Callaghan. "When you lose at sports betting, or in a casino, you are losing to the house. In poker, you lose to a person. That feels a lot worse. There is an embarrassment attached to it, a feeling of humiliation and shame. It goes against all of the macho competitive norms. This is why I think women poker players have great control at the tables. They are not affected by this issue as much."
I can hear the click of the lock. The door has opened. I can now see the light. Now it all makes sense. I couldn't get my instant high, playing poker, because to do so would mean sitting at a table and going all-in every hand. I would look like a right donkey. I was never comfortable not being able to win constantly when playing cash games. I was embarrassed. I am very competitive. So, in the end, it didn't provide me with the thrill that I needed.
But I still play poker. Why haven't I been triggered to return to sports betting and casino games? Why don't I seem to need that high anymore?
"The way that you now approach the world, including poker and gambling, is a reflection of how much stronger, balanced and self-assured you are." Said mental game coach Jared Tendler. "Having that stability fills the need to gamble. Gambling, like your drinking, was trying to fill a hole. You filled it.
"Your need for instant gratification was a symptom of how severe your problems were. The more pain you suffered, the more you would seek relief in faster more magical ways."
At that moment, someone pressed pause. Everything stopped. I remembered. I was incredibly unhappy. I was a drunk, I carried the shame of losing so much money, deceiving my wife and I hated my job.
I used to think I was gambling because it was fun. Now I understand that it was an escape. It was a place where I could hide from the tough choices I would need to make in my life. It's not gambling's problem that I became an addict; it was my own.
So is poker gambling?
Marvin Rettenmaier said, "It depends on the person."
I agree, but you also have to consider the moment.
There was a time when poker was gambling, for me, but today I view it as a competitive game where over the long run, the person with the most skill will be the winner.