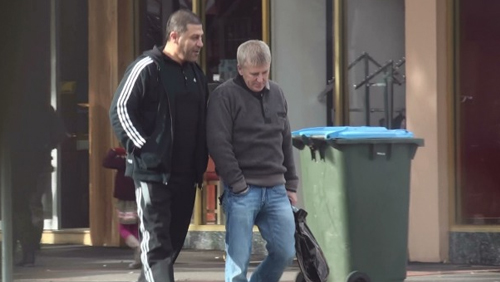 An organized crime investigation involving prominent Melbourne harness-racing owner Paul Sequenzia has led to an almost $6m tax bill.
Paul and his brothers Ricky and Daniel were hit with tax bills of about $2m each in the past two weeks and were suspected of failing to declare income.
According to Justice Minister Michael Keenan, a national scheme that targets unexplained wealth of crime groups will be formed and could be finalized in weeks.
The scheme, which would prevent criminals from reinvesting their illegitimate profits, will be discussed at the Law Crime and Community Safety Council meeting in Canberra in November and could be in operation by the end of the year.
The states in which a kingpin has assets could divide proceeds as a result of charges for the federal offense.
"We cannot allow criminals to exploit our state and territory laws to create safe havens for ill-gotten gains," said Keenan. "We are serious about tackling bikie gangs, the misery they peddle, especially the cross-border evil they are spreading across our nation with the insidious ice trade."
Paul Sequenzia is member of the 'tracksuit gang'—a group of punters, organized criminals and racing figures who bet big and formed close ties with jockeys, bookmakers and trainers. Other members include Horty Mokbel and his brother Tony, who were banned by Victoria police from all racetracks and Crown Resorts casinos since 2004.
Paul, despite being linked to a series of scandals, including the cobalt saga and other match-fixing cases, had not been banned from racetracks and casinos in Melbourne. Paul had charges relating to his involvement in an alleged $2b drug ring headed by the Mokbels were dropped in 2004.
Ricky Sequenzia, also an owner and breeder of harness racing horses and a poker player, was charged a decade earlier over an alleged plot to sell $370,000 of methamphetamine with Mokbel associate Vinnie "Big Nose" Panuccio. The charges were also dropped because of a lack of evidence while Daniel, the youngest brother, has boasted millions of dollars in prize money at Crown and throughout Australia for the past decade.
Their sister Antonella, wife of Mark Moran—notable for his involvement in the illegal drug trade and Melbourne gangland killings and who owns millions of dollars of property in Moonee Ponds, Keilor East and Niddrie–is also included in the investigation but it's unclear whether she's part of the tax probe.
Comments